Race: B&O Canadian 5k Championship, Yorkville
When: Sunday September 7, 2014.
Result: 6th age (M45-49), 17:13 (PR on certified 5k).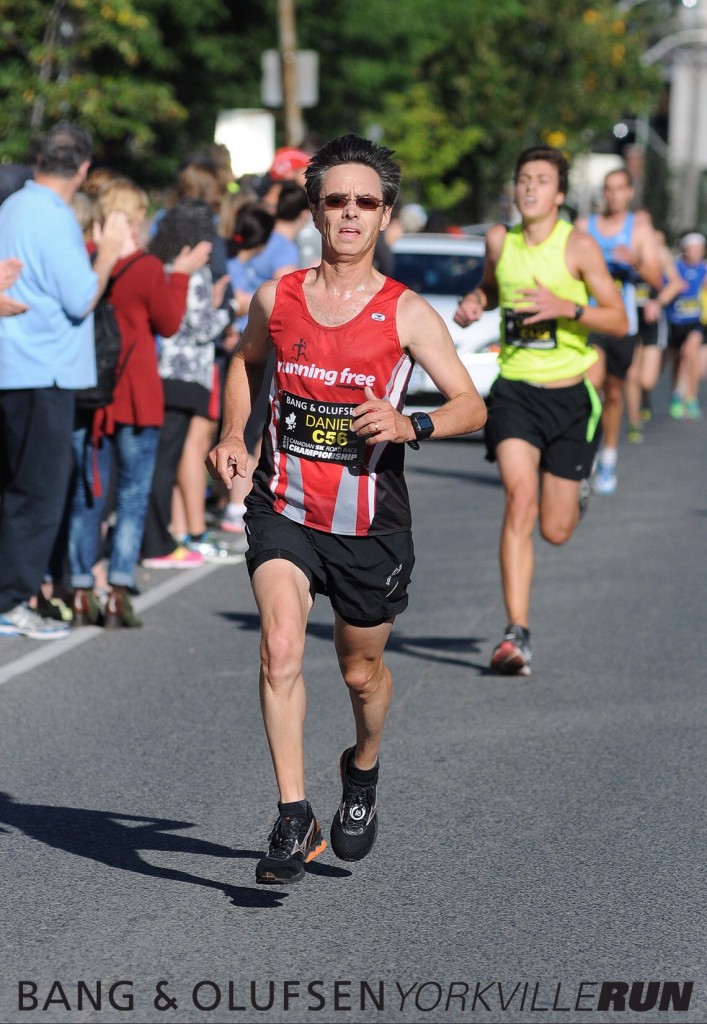 At the halfway point of the Canadian 5k Road Race Championship, I checked my watch and could not believe the pace my split indicated. We had already blasted down Bay Street and were into the grind back up University Avenue to Davenport Road. It read 3:48/k. My fall goal race was un-done by a costly two minute nap. Bye-bye sub 17:00 dream.
Yes, it was a tough course, but everyone was in the same boat. I heard more than a few grumblings about slow times, if you can call sub-15:00 for the top eight finishers slow. And even with the difficulty of the route, 120 runners (over 70% of the field) finished under 19:00. That is one tough field and to be expected given the pre-requisite qualifying times. A lot of men with gray hair (or no hair) kicked my butt. No age prize today. But enough about me.
It was great to see friends doing well: John Tranter (M60-64) took a first age medal for the umpteenth time, after a long battle with injuries. Stay healthy John! Anthony Davey (M50-54) claimed a second age medal. That was second to Steve Boyd, coming after Anthony claimed his competitive years were behind him. These gentlemen and a few more are waiting for me on the other side of age 50. I'll hold onto 49 as long as I can! Finally, Mindy Fleming (F30-34) scored a nice PR (18:15) on a course that was not PR worthy.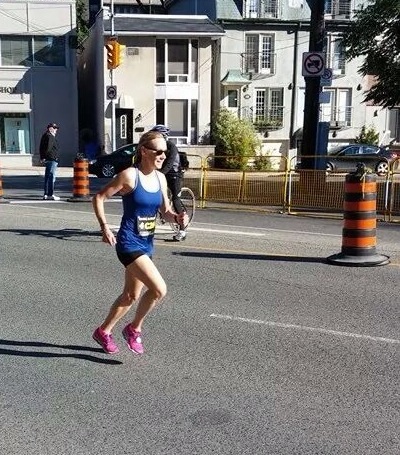 But I remain most impressed by my wife Melissa (F45-49). This race was for elite and sub-elites, for the best 5k runners in Canada. Almost every age category was stacked, and qualifying times were steep. Yet in less than a year of serious running and training, Melissa qualified with a 21:17 (PR) that made the 21:30 cut for her age. Yes, she was the little fish in a huge pond. She had the choice of running in the open race, but even with legitimate worries about finishing last, she chose to join the fast girls. I thought she had a better chance at an age medal and I was right: 4th age versus my 6th age.
My own age group was tough. The 3rd, 4th and 5th finishers all crossed just under 17:00. If only I had managed my pace just a little better… okay enough about me already!
After my race, I joined in the open race for a little "bandit cool down". My pal Matt Maccarone posted he was bringing it today, so I couldn't miss this. But losing him in the chase down Bay Street was not what I expected. The man – and he is a big bruiser – was flying down Bay on sub 6 minute miles! He obviously didn't need my company (yet) so I took to encouraging some of the other front runners. We turned up University and I encouraged everyone to kick it up. The honeymoon was over. I so wished someone was chirping similar thoughts into my ears!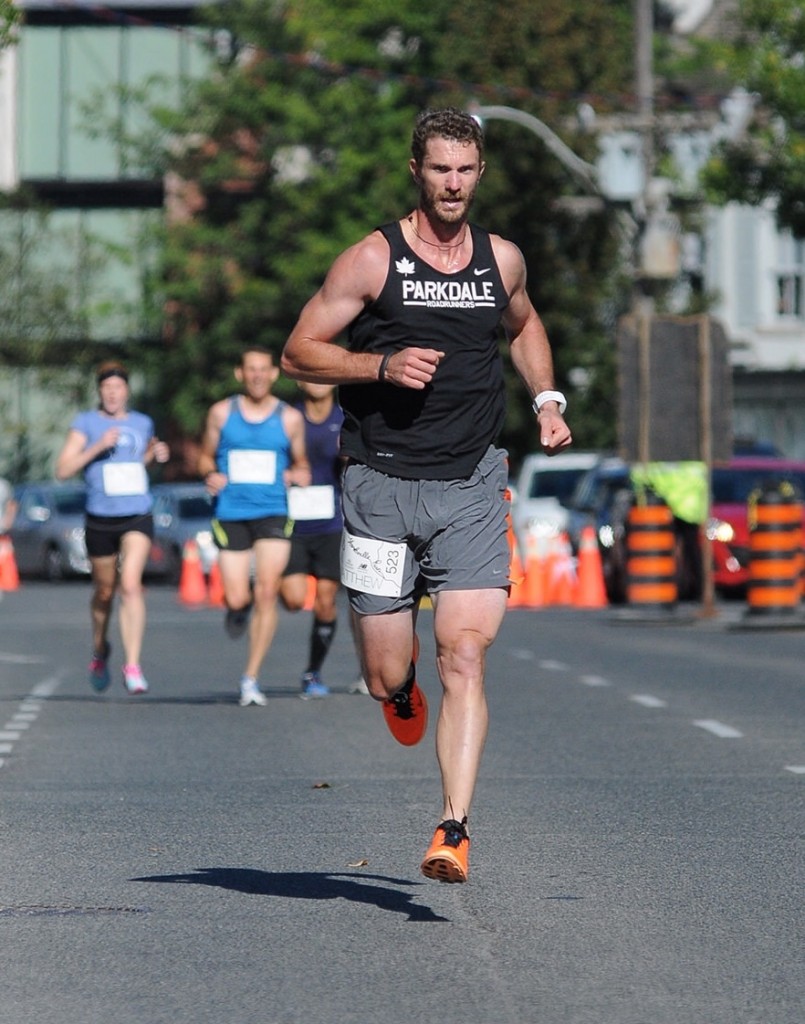 Fighting the grade, I finally caught Matt and started on him: "Let's go!", "Pick it up!" "Keep it smooth!" among many others. Matt's breathing sounded very good, so I pressed him again and again. By the time we turned onto Davenport I finally had him near full expenditure. Nothing left but the finish. Somehow, between gasps, he indicated disappointment with his result. But judging the way he was clinging onto the finish chute barricade, he had left it all out there. Wish I had done likewise. It turned out this was the longest training week of his running life (140k). Factor that in, and he cannot be disappointed with his result: 4th overall in 18:55!
So that is 5k in 17:13 and another in 18:55, for a total of 10k in 36:06. Not bad training for the 10k national championship coming up at the Zoo. Hopefully, I have learned my lesson well. But not. That will wait until my next report.
PS: Most awesome race kit ever!
PSS. If you liked the first 2k of B&O, check out the Skecher's Downhill 5k races. The entire route is the same gentle downhill grade – absolutely smokin' results are guaranteed!