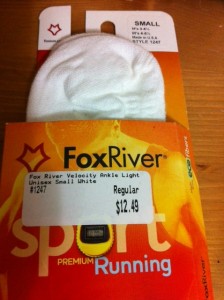 I won $40 worth of Fox River product in the Team Running Free lottery.  I have been using Fox River socks for skiing since 2007 but had never purchased a pair of their running socks until this Fall.  I choose to buy a new pair of Fox River running socks to wear for my fall races. The socks were fantastic.  They were light, almost silky feeling on my feet and the toe area did not bunch up.  I prefer thin socks over bulky thick socks.  Half way through one of my races it started to rain and the puddles kept getting bigger.  I began to worry about blisters and that overall soggy feeling between my toes – I am very pleased to say that I did not experience a single blister and my feet felt comfortable for the second half of the marathon.
Recently, I traveled to Costa Rica with my family and decided to take the socks with me for some beach running.   Once again, despite the very hot, humid temperatures the socks kept my feet feeling dry and comfortable!
My husband is also a fan of the socks and has been wearing them for running and mountain biking.  We have both used other brands of socks (that were much more expensive) but they simply don't provide the same benefits that Fox River does.   The socks are easy to take care of and keep their shape, wash after wash, after wash!
Fox River will continue to be my go to socks for skiing and now for running.