So you want to run a marathon, Ontario runners? Assuming you have ruled out a destination race, the possibilities are staggering within Ontario. Even with the unfortunate cancellation of Thunder Bay's Miles with Giant for 2015, there are still 29 marathons that will be staged fully or partially in Ontario in 2015.
While a full list can be found in the final section, below are some considerations that may steer you toward something quick, tough, unique or full-of-bling:
GLOBALLY-RECOGNIZED
Ontario is host to the only three Canadian road races, 2 marathons and a 10K, accredited by the IAAF as global leaders:
Ottawa (May) – Ottawa is a Silver Label Marathon per the IAAF. The race weekend also features the Gold Label Ottawa 10K on Saturday evening.
Toronto Waterfront (October) – The Toronto Waterfront Marathon is  Canada's lone Gold Label Marathon.
QUICK COURSES
Toronto (May) – This spring event runs from North York to Ontario Place, just off Lake Ontario, with a net deline of 105 metres. While cooler than marathons later in May, race day high temperatures can exceed 15C.
Mississauga (May) – This course takes runners from Square One Shopping Centre in downtown Mississauga to Lakefront Promenade Park with a net elevation drop of 77 metres. Staged the same day and in the same area as the Toronto Marathon, temperatures are cooler than later events in Whitby and Ottawa but can still be higher-than-ideal.
Hamilton (November) – This course declines 125 metres, starting on the Niagara Escarpment and finishing in Centennial Park, again off the shore of Lake Ontario. Along with this decline comes ideal temperatures, with a race day high of around 5C. This is Canada's leading Boston Qualifier most years per MarathonGuide.com.
TOUGH COURSES
Northface Ontario (July) – Taking place at the Blue Mountains near Collingwood, this course has total elevation change of 2,618 metres. In July!
EndurRun Marathon Stage (August) – This summer race gives you an option of running a standalone 42.2K, 78K over three stages or 160K over seven stages.
Beyond the 29 marathons listed, marathon-length runs can be run as part of iron distance triathlons or duathlons at Ironman Muskoka or at multiple SomerSault races in Ottawa. Ultramarathons take place throughout Ontario regularly with distances up to 100M or 48 hours biannually at Dirty Girls Run in Mansfield.
RUNNING ACROSS ONTARIO'S BORDERS
Ottawa (May) – Starting and ending in downtown Ottawa, the portion from 19K to 26K is run in Gatineau, Quebec.
Sault International (September) – This event takes place in the twin cities of Sault Ste. Marie, Michigan and Sault Ste. Marie, Ontario, with the scenic course largely in the former.
Detroit (October) – The course features a beautiful early southbound sunrise run across the Ambassador Bridge into Windsor and an underwater mile return to Michigan via tunnel later in the first half.
Niagara International (October) – This race starts at the Albright-Knox Art Gallery in downtown Buffalo and enters Canada via the Peace Bridge 7K in, finishing in the shadow of the Canadian Falls.
COOL MEDALS
Detroit (October) and its automobile designs often rate very high in Marathon & Beyond's annual ratings in its magazine that I recommend to anyone still reading at this point of the post.
Huge Toronto (October) medals often see a M&B mention as well.
Below is a picture of 16 medals I have collected from 9 of Ontario's Marathons, including these two events: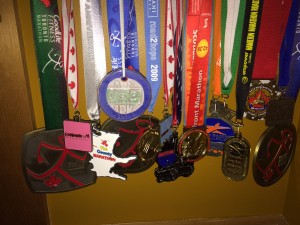 VALUE
Sudbury Rocks (May) – When I ran this Marathon in 2010, it was in the $40-$45 range but what stuck with me was that the race charity proceeds were higher than the sum of entry fees.
Whitby (May) – $30 to enter if done within the prior August.
EndurRun (August) – In the $25-$35 range at early entry.
MEC Toronto (September) – $25!
MEC Ottawa (October) – $25.
NOTEWORTHY BLING, ODDS AND ENDS
Mississauga (May) often has a large offering of bib bag and expo freebies, including practical items for the suburban homeowner: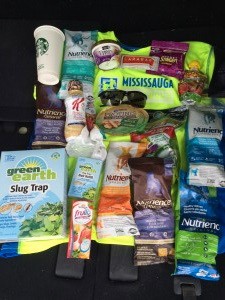 Friendly Massey (July) age-group winners receive hand-carved bar stools. With a small field, all are in contention.
EndurRun (August) – This race gives a great spread of food and a variety of unique items. If one upgrades to the seven-day event, a custom finisher's shirt with finishing time is printed while the runner socializes at the Conestogo Community Park with the other finishers.
The County (October) – Free beer from sponsor Barley Days Brewery at the finish.
Hamilton (November) – At my last visit in 2011 the buses to the start line on this point-to-point course featured tour guides that told of the area and race history and gave a course desription verbally to riders, which was exactly what was needed for the 12K ride.
MY FAVES
Though only partially run in Ontario, Detroit (October) is my favourite large Ontario Marathon. An electric start (loud tunes and bright lights in the pitch black), the sunrise on the Ambassador Bridge, the Windsor fans jammed into a few kiometres, the Underwater Mile, a visit to Belle Island and downtown finish are memorable. This one has a lot to see.
The County (October) is my favourite small Ontario Marathon. This has a scenic point-to-point course but the organization is a big winner here. A relatively small race that takes place across a large part of the Prince Edward Country Pensinula is flawlessly exectued annually. The Crystal Palace is a great spot to warm-up after the race.
EndurRun (August) is my favourite community Ontario Marathon. You are a member of the family at this one. Well organized by runners and an event where you are treated as an elite athlete.
DATE and LOCATION
Picking a date that works ideally for training and a nearby event for which you can train on the course can be desirable as well. So here is a list of unofficial next race dates:
5-3 Toronto
5-3 Mississauga
5-10 Sudbury Rocks
5-17 Whitby
5-24 Ottawa
6-6 South Coast (Simcoe)
6-13 Niagara Ultra
6-13 Band on the Run (Huntsville) (5-27-2015 Update – a third Northern Ontario Marathon cancelled for 2015)
7-11 Northface (Blue Mountains)
7-19 Friendly Massey
8-16 EndurRun (Conestogo)
8-29 The Canadian (Ottawa)
9-13 MEC Toronto
9-19 That Dam Hill (London)
9-20 Run for Heroes Marathon (Amherstberg)
9-26 Sault International (5-3-2015 Update – a second Northern Ontario Marathon cancelled for 2015)
10-4 The County (Wellington to Picton)
10-10 Kitchissippi Run (Deep River)
10-11 Ottawa Fall Colours
10-18 Detroit
10-18 Toronto Waterfront
10-25 Niagara Falls
10-25 Haunted Hustle (Temiskaming Shores)
10-31 MEC Ottawa
11-1 Hamilton
1-2 Run4RKids (Toronto Indoor)
2-7 Thunderwolves Indoor (Thunder Bay)
2-14 Winterman (Ottawa)
4-24 Waterloo
Thanks to Marathon & Beyond Magazine, MarathonGuide.com, FindMyMarathon.com, RoadRaceResults.com and these great events for making me aware of what is out there during my years of running. Enjoy.