After years of running, first with a wet back from the leaking of a low-end hydration back, then on routes with country general stores stocking sports drinks as calculated turnaround points and occasionally running with too little water, I opted to go against my cheapskate ways and try a hydration pack appropriate for a year-round distance runner.
I chose the Nathan HPL-#020, a male-specific model. (The Intensity is Nathan's sister product for females.)
Perhaps because time was spent on design rather than a catchy name, the HPL-#020 came ready to use, which was ideal for me. Other Nathan products offer a removable bladder but with leaking packs in my recent history I was happy to not immediately take bladder connectivity into my own hands. There is 4L of capacity beyond the 2L bladder in the back, I'm not sure what I would use that for, all that I needed was accessible from the front. I did find the two side pockets, both accessible while running, handy – in these I kept gels on one side, a sports drink bottle on the other. The latter alleviated my concern of bladder mould, I would simply carry liquid calories in an easily washable container. For me, this bottle became a good disposal spot for gel wrappers once empty, to keep other accessible pockets clean. No concerns on the bite valve, if off at all flow would be on the low side, but it was fine for me.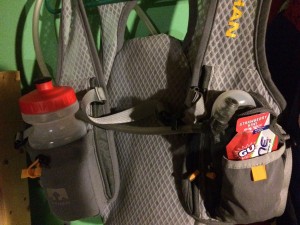 Fill-up of the plastic bladder, which has a slide-across seal, was easy. It appears that the bladder can easily be turned inside-out for cleaning, handy if you did want to carry sports drink, a thorough cleaning would be routine.
The fit on my back was good, I would attribute this partially to the gender-specific fit. And it was easy on-an-off even with my old-man cranky shoulders. A bit of sloshing noise with a full bladder when running but not significanlty different from competitor products and if you're like me, you'Il be cranking tunes when on runs long enough for a hydration pack. The pack was light enough that I barely noticed it was there once the bladder was approaching empty.
Comfort also came standard. The bladder tube comes over the shoulder so it is not a skin-rubbing chafing risk. I am rarely shirtless but there appears to be a lot of thought put into the fabric around the edges, it looks safe as well. I did not notice any real back dampness I've noted with other packs so the wick-away design appears to be working well…though no leaking may be the improvement there. There is a height-adjustable chest strap but at 5'11', the default spot was where I needed it.
Buy with confidence. I have no concerns to pass on but I do think that you should go for a jog around your local store with pack on and note where hose clip and bottle placement will be. Some of you have textbook arm swing, as opposed to my midpoint between untidy and mixmaster, and may find a bottle intrusive where I do not. I think there is some real utility for ultra racing here. Access to gels, salt pills and a special needs bottle without a slow-down seems like a real plus.
See this pack at RunningFree.com
http://www.runningfree.com/products/Nathan-HPL-020-2L-p38752