I was fortunate enough to be able to test out the Arena Fastpack 2.1 at the beginning of this year's training season, thanks to the Team Running Free lottery.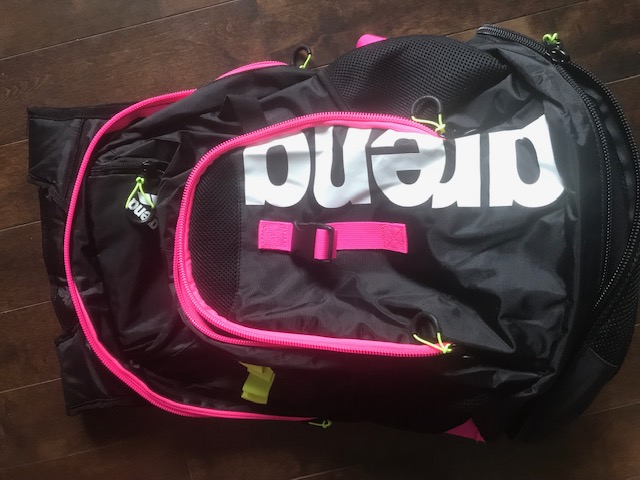 This bag has pockets for EVERYTHING! Swimmers have a lot of equipment to carry around, and this bag has large compartments for suit, goggles, buoy, fins, caps, change of clothes….you name it. There are several small pockets where you can stash your keys, phone, wallet and snacks throughout the bag, and many of the mesh pockets have reinforced bottoms that will keep them from tearing if you put hard or heavier objects in them. The small pocket on the top is lined with a soft material, and that's where I stored my phone most of the time. There are also water bottle pockets on both sides of the bag.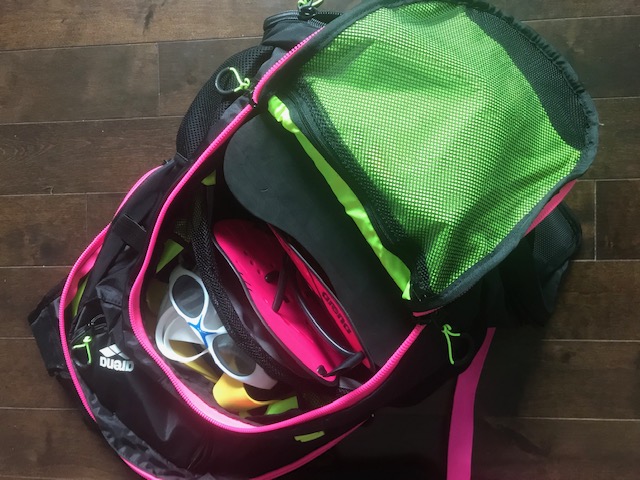 The Fastpack definitely feels like a well-made, sturdy bag. I have been toting it around all winter, throwing it into my car, packing it into and generally putting it to the test, and it has completely held up. I would give it high marks for quality. There's also a waterproof layer on the bottom that lets you separate your wet and dry items, which is great when you're leaving the pool.
Personally, I felt that the straps were pretty comfortable, which is important when I'm carrying around a large pack with a lot of equipment. A friend of mine tried the pack on and said that she found the straps a bit wide for her liking, so this is where it becomes important to try it on for yourself to see it feels to you.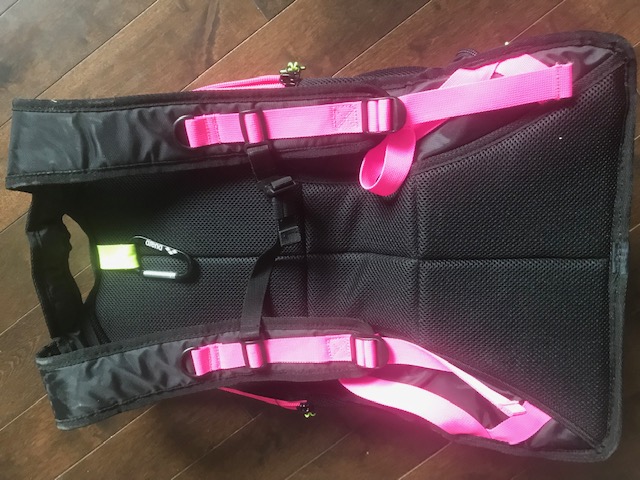 The Fastpack has a carabineer clip on the back, which I really liked. I was able to hang the pack up in certain lockers by the clip, thereby saving the straps. I imagine that if you do your workouts in an outdoor pool, you could use the clip to hang the pack on a chain link fence. You could also use the clip to quickly attach a helmet or water bottle, if you like.
The pack is a bit big, but it really has all of the different compartments that you could need to store your swimming gear. It has clearly been designed with the end user in mind, and has a lot of thoughtful and useful elements built into it. I'd recommend this pack for competitive or fitness swimmers or triathletes – I've been really happy with this bag all season!