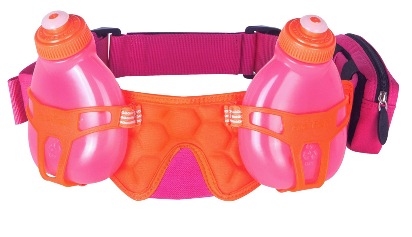 A few weeks ago, the bottles on my tried and true hydration belt started to leak like crazy, and I noticed that after about 8 years, it was starting to show a lot of signs of wear. I stopped by Running Free to see if I could find a new one, and came across the FuelBelt Helium H20 2-Bottle belt. The super bright orange and pink colours of the belt and bottles caught my attention and, at first glance, I found the belt to be very lightweight and well-padded. I decided to give it a try.
FuelBelt markets the Helium H20 2-Bottle as the "lightest weight hydration belt ever designed and matched only by its incredible comfort and flare." Right away, I found that the belt sat comfortably on my waist. The two 14oz bottles are well positioned – they are easy to reach for and didn't get in the way of my arms while I was running, though they did jostle a little when they were full. Also, the push-pull caps on the bottles are really easy to open.
I really liked the removable storage pocket, which has another secret zipper pocket inside of it. It's roomy enough to hold gels, Kleenex, money/cards and keys. Also, the Velcro on the waistband isn't scratchy when you touch it and the Fuelbelt is easy to put on. The belt offers a lot of breathable padding at the back, making it really comfortable to wear.
Overall, I think the FuelBelt Helium 2.0 is a fun and comfortable option and I've been pleased with its performance so far.