Saturday April 25, 2015
Unionville, Ontario
10K, 5K walk/run, 1K kids' run

It was a sunny day in Unionville…
This was my second time doing the Run for Women 10K in Unionville. Last year when I signed up, I was looking forward to a scenic run around the pond and through the parks, but unfortunately the winter had left the parks ravaged and the course was moved to the streets; we ran two 5K loops through the residential neighbourhood instead.
When I signed up again this year, I was feeling pretty hopeful I'd get to have the park run I had been looking forward to last year but that was not to be – back to the streets we went. (I'm getting the feeling this is a permanent move.)
So here's the lowdown on this event.
First, the things I like:
1) It's small. This year's race drew just under 1000 people of which only 269 ran the 10K. This means no long shuffle to the start line and no massive congestion as everyone settles into their pace.
2) It raises money for a great cause that I believe in – women's mental health programs at Women's College Hospital.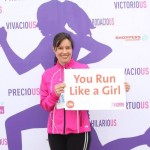 3) They provide fun/inspiring signs for bystanders to hold as they cheer people on (e.g. "Way to go random stranger!"), or for runners to pose with after the race (like this one from last year…).
4) For the most part, it's a well organized event with very decent refreshments afterwards – bagels, bananas, tangerines, protein shake, multiple kinds of protein bars, coffee, water – plus a nice grab bag from Shopper's Drug Mart.
5) Main Street Unionville is a nice place to hang out and have coffee with friends after the race.
Now for the things I didn't like:
1) This will come as no surprise – the route. I'm super disappointed they've moved the race to the roads and that's the main reason I probably won't do this run again. I purposely choose my races based on courses that will be pleasant and scenic (nature, not urban). There is very little that's enjoyable to me about running through neighbourhoods along the edges of streets, most of which are still open to traffic. That takes me to the next point.
2) Although the majority of police officers who were managing traffic did a great job, the one guy who made all the runners stop after the first water station so that he could let a few cars through…. seriously??! Wow. Not cool, dude.
3) There is a large contingent of walkers who walk in groups, sometimes with strollers, that spread out across the entire width of the limited space available, leaving runners to try to find a way to squeeze through the mass or to run outside of the restricted running area to get by. Both years, I've encountered this mass of walkers at about the 8.5km mark and, I have to say, it's been a bit frustrating.
And so…
There you have it – that's my take on the good and the bad of the Run for Women in Unionville. I'm glad I did it and I do think it can be a pretty fun event, but unless they move it back into the parks I'll be looking for a new Spring 10K for next year.