I was looking for a reasonably-priced summer half marathon in 2012 and there it was. The EndurRun was offering one in mid-August for twenty-five bucks.
I signed up and that began my road to becoming the 100-mile kid. Or as the EndurRun finishers are known, One Tough Runner.
As I started to enjoy that day, I asked the same question we all did the first time we listened to a heavy metal cassette tape, 'How doesn't everyone know about this?'
The half marathon had 30 single-day (guest) entrants and six runners that were part of weeklong seven-member relay teams. There were also 40 runners competing in an intimidating seven-stage, eight-day 100-mile (ultimate) series that included:
– Road Half Marathon
– 15K Road Time Trial
– 30K Cross Country Race
– 10 Mile Hill Race
– 25.6K Alpine Race
– 10K Road Time Trial
–  Road Marathon
Just like the Tour de France but the between-stage questionable athlete-rebuilding activity is beers in the Schmidt backyard.
I found the multiday events intriguing, particularly with the friendly atmosphere. This is a week-long race for some, a training camp for fall marathons or future ultramarathons or multiday events to others, a challenge to finish for others and a vacation and social event for almost all.
I liked the 2012 half marathon enough that I entered the 2013 sport series…then the 2014 ultimate…then registered for a 2015 repeat within a week of finishing in 2014. I finished the 2015 ultimate on Sunday. These weeks have been spent pushing my limits in the summer sun on great race courses with old and new running friends and competitors.
2014 and 2015 have been similar. Fresh tapered legs have helped me happily race the Mennonite buggies and enjoy scenery during the Sunday half marathons. Monday's time trials have me down to marathon pace for the 15K distance. Tuesday's 30K cross-country stages have further pulverized my legs but I have stayed strong. Wednesday evening's hilly 10-milers, the first mountain stage, have blown my training wheels clean to smithereens early and those 85 minutes have seemed as long as each week's three 3 to 4-hour stages. Friday's second mountain stage and its 725 metres of ascents up Chicopee Ski Hill, including five climbs of the River Road East climb, have had me begging for mercy throughout. That is as bad as it gets. I have had good success on the closing weekends with a bit of restraint in the 10K and opening marathon loops.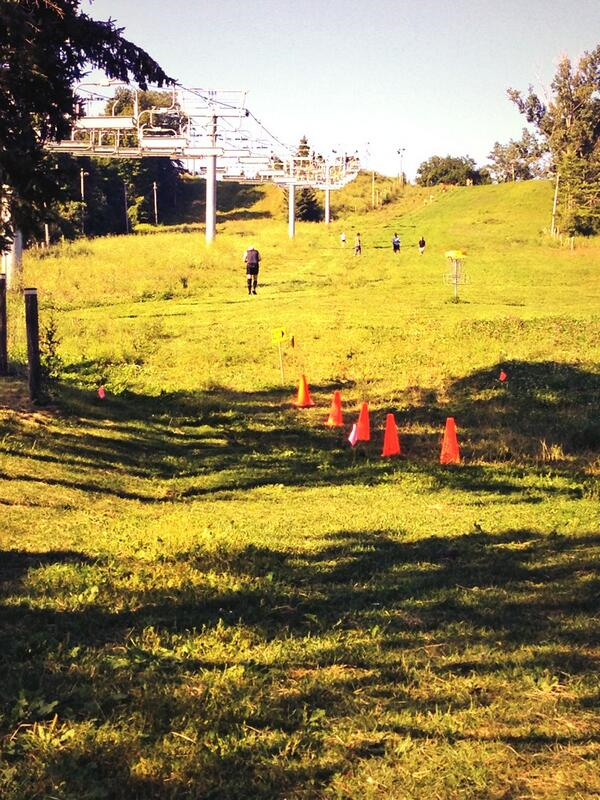 There is something for everyone here. There are trails, roads, hills and challenging terrain, time trails and the best race courses and training areas in Kitchener-Waterloo, including Bechtel Park, Chicopee Ski Resort, Stage 4's haunting Wilmot Line Hills and roads throughout Conestogo.
For those who can compete with the best in the stacked group at the top, there are many races-within-the-race. There are cumulative time three-day (Sport) and seven-day (Ultimate) series and Mountain, Trail and Sprint King and Queen competitions within the Ultimate Series. The Marathon is a certified Boston-Qualifier.
RunWaterloo's organization of this event reflects the preparation put into it, from focus groups before the first staging in 2004 through the continuous improvement I have witnessed during my three return visits. The volunteers, food, RMT support, photography and other support are second-to-none. There are other excellent community races like the Prince Edward County Marathon, Lindsay Milk Run and Boxing Day Ten Miler that give a comparable experience for a morning and afternoon but the EndurRun has all competitors feeling like elite athletes for nine consecutive days:
Wilmot Line, River Road East climb and group photo courtesy RunWaterloo.