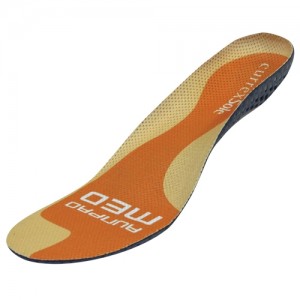 One might wonder how a review can be done on a pair of insoles. It took me a few minutes to figure out what approach to take when reviewing them… Well I decided on a side-by-side comparison.
But first, a bit of background before digging in: I grew up playing football, rugby and skiing. That's three sports that are pretty brutal on your legs and knees in particular. I've always had achy knees, but to add to it, last winter I twisted my knee on the ski hill saving my 4 year old from smacking headfirst into a fence post. In getting it all assessed by an athletic therapist and chiropractor, I was told that when I stand, I have high arches in my feet, but when I bend my knees, my arches collapse and I become flat footed.
Knowing that this year I would be training for a marathon and having less than perfect knees and arches that collapse, I picked up a pair of insoles to compliment a light stability shoes. Heck, 42.2km on asphalt, I'll take every bit of help I can get!
In getting a foot assessment done by the Currex sales associate, he suggested the high arch insole. But knowing that my arches don't actually stay high, I opted for the middle ground and got the medium profile insole.
I've been running with a Saucony Guide 8 and Currex insole for the past few months. I bought the shoes and insole at the same time, and followed a standard break-in period. New shoes need to be broken in on their own. Add to that something that is supposed to support your foot even more and it needs a break-in period as well. (Although in reality, it not really the shoe and insole that's being broken in, it's your foot that needs the "break in" to adjust to the new shoe and insole).
I have done more mileage in these shoes in a shorter period of time this summer than I have in past years, and I am happy to say that I haven't had any of my usual knee aches.
To try and see if there is any difference, I took my older shoes, with similar mileage, pair of Saucony Guide 7. I took them out for a jog with the regular sock liner and ran a 10km route at a brisk pace. I know when I run faster my feet hit the ground harder with each step.
After the loop, my muscles and joints were fine. But I could tell that I didn't have the extra cushioning in the heel that the Currex RunPro insoles provided. And because I didn't have the extra cushioning, I'm doubting that my longer runs would be as comfortable as they have been.
I kinda missed the feel of the insoles.  I didn't like the feel of their absence…
I never thought of insoles as able to provide added cushioning, but in looking at the Currex insole, it has a squishy, gel like pad in the heel.  And I like squishy.
In conclusion: I can't really tell if the insole provides much arch support. In my case, any arch support is welcome.  Where I found the most noticeable benefit of the insole is in their heel impact cushioning. I am certainly going to continue using the Currex Insoles, and after this pair wear out (which the account rep said lasts two shoes), I am going to consider trying the high arch insole.
Wearing Currex RunPro insoles:
Do my feet feel decent after a long run: YES.
Do I like extra impact absorption:  YES.
Do they help me run further:  YES.
Do they make me run faster: no.
…Do they help me run further:  YES!