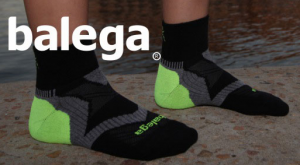 Running is a rather simple pastime and sport in theory but gets complex in its execution.
For all the gear, technology and gimmicks there are really 2 pieces of essential equipment that connect you to the running surface.  Your shoes that contact the road a bazillion times a year and the your socks that keep your feet happy in extreme conditions within the shoes.
For all the technology around gel-this and wave-that, many new runners overlook their socks … until they become a problem and then … they never overlook them again.
I was looking for some new socks options after the multipack of socks I purchased at a mass retailer started to wear out.  The socks themselves were pretty good, I thought, and the price was right.  I just figured I should experiment with higher end socks and got some advice to try these Balega socks from my local Running Free location.
I bought 2 different models, the Balega Enduro VTech Quarter and Balega Enduro 2 Low Cut put them in the rotation.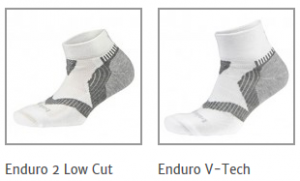 The main difference was the "Quarter" had a bit more material above the ankle.  I don't personally like the look of the higher sock as much but I found that in trail running I often clip my ankles with my opposite shoe while stumbling through challenging terrain.  These socks added a bit more welcome protection.
From a technology stand-point they themselves list many premium design and construction aspects on their website and packaging:
NEW enhanced compression bands creates the ideal mid-foot support structure
US made fibers
Hand linked toe closure
Extra deep heel pocket
Mesh construction for ventilation
Cushioning for impact resistance
Medium volume construction
New V-Tech Arch Support System for added structure
Proprietary Drynamix Moisture management fiber
What struck me immediately when opening the packaging, other than enough information about their product to keep you busy on a long bus/train ride, was a sticker on the socks with a picture and first names of the people who inspected the product.  It's a nice touch to let me know that they care about their products and wanted customers to know they are personally invested in it.
This is my first pair of socks where I bought a specific size.  I have small feet, size 8, and it always made me wonder when I would see other socks with "size 7 to 12" on them.  The different is noticeable.  No more bulges.  Both pairs of socks fit perfectly on my feet, right out of the package and after washing/wearing them many times.
The toe closure feels absolutely seamless.  The overall fit is adequately tight and close to the skin.  The arch section provides a compressed/supportive feel.  Overall the venting on the sock give it a breathable and cooling feeling when taking my shoes off indicating they do actually breathe.  The heel fits snuggly and overall the socks feel like they were made for my feet.
The thickness of the sock is on the medium side.  I have many pairs of socks that feel bulky which these do not, but also, they don't feel too thin.
The thing I love about these socks best after the fit is the softness.  These socks are soft.  After much abuse and several washes they still feel super soft.  Other socks I have worn become rigid over time and these do not.
In conclusion, if you are in the market for some premium socks with great design components the Balega socks I have been using should be a consideration.   I have found them to be very well built, they wear very well and inspire confidence both in my long runs and race conditions.