I was lucky to have one a spot in the Run Ajax Waterfront Half Marathon in the Team Running Free lottery, and overall, I had a great experience. This was my first time as a participant, and I would certainly consider running it again! Here are some of my thoughts about the experience!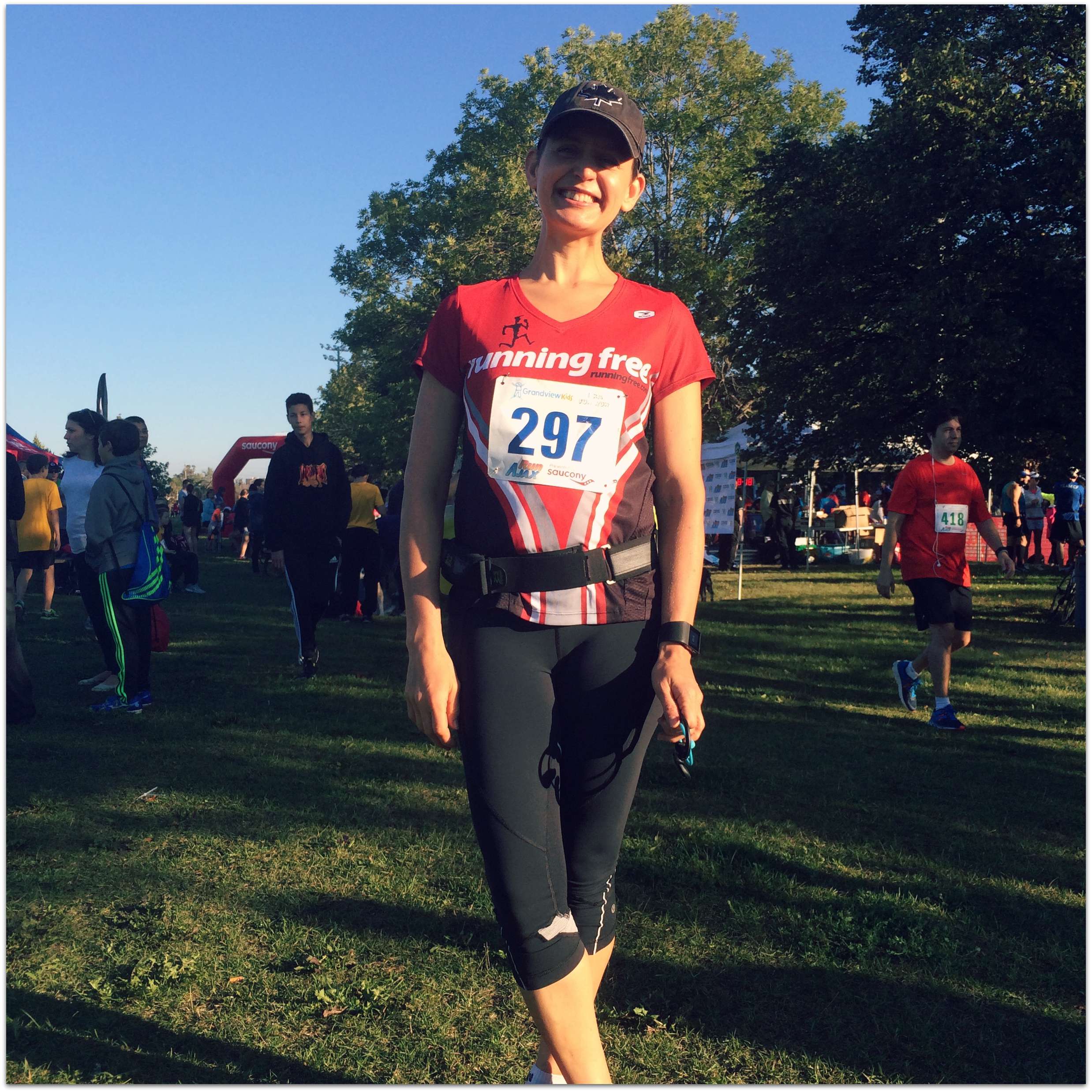 Course: The route was just beautiful, and the course was clearly marked with lots of directional signs. I absolutely loved running right beside the water. There wasn't a lot of shelter from the sun along the route, but that's not really a fault of the race organizers. If you prefer a rolling course to a pancake-flat one, this is a race for you!
Given that the weather today was particularly hot for late September, I really appreciated that there were plenty of water stations along the route, manned by enthusiastic volunteers. The motivational sayings written in chalk on the pavement were also really sweet; they made me smile along the way.
For the first half of the race I managed to stay just ahead of the 2:00 Pace Bunny – faster than my typical training pace. With the heat and the aforementioned rolling terrain, though, I did start to slow down during the second half of the run. I ended up finishing in 2:02:19 – a totally unexpected personal best!
Organization: The race was well organized. Race kits could be picked up during the two days before the run, as well as on the morning of the race itself (though that could have been publicized a little better – I ended up driving from Newmarket to Ajax the day before the race, not realizing I could have saved myself the extra drive). The race shirts were pretty nice – I will definitely be using mine again. In general, I also prefer races to begin earlier. The half marathon began at 9:00am, so we were still out and running while the day got warmer and while more people started walking or biking on the trails.
Parking: There was plenty of free parking available at the Recreation Centre and at Running Free Ajax. I parked at Running Free and was able to walk to the start of the race within minutes.
Post race: There were a few booths with things to do for racers of all ages at the start/finish line area. Post race refreshments consisted of juice, cookies, yogurt tubes, bananas and apples – nothing fancy, but not bad. It would have been nice to have an energy bar or even the traditional bagel.
Overall: I would recommend this half marathon. It's a small town race, but just big enough to make it feel like you're a part of something special!