The good and bad from Sunday's cold but fun morning touring our provincial capital:
Expo
GOOD. This is an expo that is improving and growing every year. The important needs were addressed – there were very relevant speakers, a reasonable range of products and deals for both locals and spectators and plenty of terminals and elbow room to check your timing chip. Nothing bad, just a few quirks – a few vendors were uncertain new entrants (Salomon not bringing shoes, as an example), floor tape to take you on an elaborate route from bib to shirt pickup dead-ended and the race title sponsor, Scotiabank, had neither a booth nor a pamphlet anywhere on site.
Tip for 2016 from this local – park at Coronation Park, 711 Lakeshore West, for $1 per half hour for kit pickup instead of the Exhibition lot for $14.
Organization
EXCELLENT. Water, gel and aid stations were at the locations promised and aid stations were sufficiently staffed and stocked for the huge marathon and half marathon crowd. Medics, police officers, pylons and barricades were not in short supply anywhere. The unmarked potholes that were an issue in 2013 were now marked. No noticeable shortcomings whatsoever. Alvin the Family Dog approved of a race medic's post-race handiwork: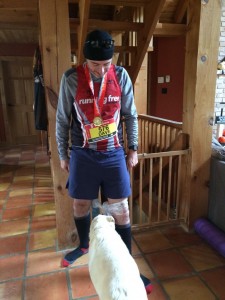 City Support
AWFUL. While we are mercifully through the multiyear battle earlier this decade that saw the Toronto Marathon moved off this date, into the spring and out of Nathan Phillips Square, one major problem remains. The mass transit system that runs underneath the start and finish of this course does not start early on race day for participants to use.
Flat?
YES. This race bills itself as FLAT, FAST, FESTIVE. With 44 metres of elevation gain and loss, this is flat as an urban course gets.
Fast?
NO. The combination of combined marathon and half marathon start and crowded, curvy course leaves this a moderately fast course at best. I estimate less than 10% of the combined starters in the 5:00/K range were trying to run tangents. With the crowded conditions and athletes running in lanes as if cars, it was difficult to see upcoming turns on the flat Lakeshore stretch. I fought like heck to run the minimum distance and was one of perhaps 1% to run something approaching the inside of curves. I kept this first half within 275m of minimum distance but it took a lot of pace adjustments, weaving and wasted energy to effectively run nowhere for 1.5 minutes. I saw many results for this first half that had 22K+ run or 5 minutes of wasted effort.
Race organizers could either put overhead signs on Lakeshore Drive to indicate direction of next turn or separate the half marathon and marathons starts if a fast course for the mid-pack were to become a priority. Until then, Hamilton and Toronto, with separate start times between distances and 163 and 105 metres of net downhill respectively, are minutes faster than the Toronto Waterfront Marathon.
Festive?
YES. No concerns here if the increase in festivities are part organic, part manufactured. I think it is great that race organizers have set up entertainment zones and neighbourhoods that are not where they fall the other 364 days of the year. I think it is great that race organizers brought in Guinness to certify World Records that don't need to exist but that are a lot of fun. I saw bands, I saw costumes, I saw a young lady spend 5 hours in a gas mask to get a record. Fans will follow if this becomes the city's leading marathon, which is where it appears headed.
Summary
DO IT. Now that the fighting of years ago is over, all should come enjoy an urban marathon in Toronto. If you want to PR or BQ, run the Toronto Marathon in May. If you want a well-organized, fun, festive race, run the Toronto Waterfront Marathon in October. But bring your car.