The Wilderness Traverse (WT) event is a 24 to 30 Hour Adventure Race. Hosted annually, it is considered one of the toughest team-based endurance challenges in Ontario and attracts racers from outside the province. Teams of 3 or 4 navigate day and night using map and compass on foot, mountain bike and canoe. The course is over 150 kilometers of side roads and rugged Canadian Shield forest, lakes and swamp. WT is part of the Adventure Racing Ontario series.
This year the race started and ended in the village of Orrville, which is about 25km east of Parry Sound, Ontario. For 2015 the race was moved to early October instead of July. Racers gained the overall benefit of cooler temperatures and no bugs, but this meant carrying extra gear to account for fall weather.
Our team name was Midnight Tracks and we entered as a coed team. (Team #6) We picked the team name to reflect the overnight navigation aspect of this event. 40 teams entered this year. I was racing with new team-mates for this edition of the race: Deborah, Rob and Brad. Deborah and Rob did the 2014 WT and Brad has done many long races, so we had experience on our side.
Race morning was interesting to say the least. I woke up before 6am feeling a bit odd. That was confirmed when trying to eat scrambled eggs at breakfast and a quick trip to the bathroom. So I started the race with just two cups of coffee and gradually reintroduced food as the race progressed.
The 2015 course consisted of seven stages, starting at 8:00am.
Stage 1 was a half-hour 4km run from the start near the Orrville Community Centre on the Seguin Trail to the stage 2 bike pick-up at Swords. During the run my pack managed to open twice with the first-aid kit sliding out. In an effort to catch up, I tripped on the trail and shined up left knee a bit with some battle scars. The banged up knee was a non-issue in this race going forward.
Stage 2 was a 6km bike to Checkpoint 1 (CP1) on the trail to Liebeck Lake. This part of the race was fine and we were trying to conserve energy drafting off each other. Once at CP1 teams dumped their bikes for foot navigation.
Stage 3 had the start of true navigation with a map and compass. We decided to go for CP2 first at Flaxman Lake and achieved this punch without much difficulty. Buoyed with some confidence we tracked back to the CP1 bike drop and westwards down the trail for CP3. Then the first big mistake on our race was to misread on the map a north to south line as a hydro-cut instead of a township line. This caused us to go too westwards (looking for a hydro line) and have to backtrack to a better entry point for CP3. Once sorted out we shredded CP3 fairly easily. Then we hiked back to CP1 to punch out as CP4 leaving the control point.
Stage 4 was a 25km trail and road ride to the paddle section in the Massasauga Provincial Park. The route was pre-planned the night before to cross Hwy 400 at the Black Road Bridge and take Rankin Lake Rd westwards. We eventually caught up to a bunch of teams at a train crossing and turned south down Blue Lake Rd. There is where a critical part of the race occurred. Going up a hill Deborah attempted to grab Rob's bike tow, but they touched wheels instead and she was thrown off her bike onto the pavement. She was shaken up badly and favouring her arm. Eventually we continued to the paddle start or CP5 / Transition Area 1 and arrived about 12:30pm.
Stage 5 was a 30km paddle and portage through the Massasauga Provincial Park. Another mistake was made here when I switched packs but neglected to move over the Delorme satellite track every team has to carry. We paddled out a bit and Brad and I had to backtrack to get the tracker left at the transition area. When returning to Deborah and Rob, the strong waves capsized their canoe on the shoreline, but we were underway again. Getting to the next punch or CP 6 involved several portages. On the first portage when lifting the canoe the wind grabbed it like a sail and toppled me over on the rocks, but luckily no damage. As we continued Deborah had to stop paddling because of her injured forearm, take pain meds and she put on a waterproof jacket and pants to stay warm. We set up a canoe tow with only three paddlers and two canoes. Almost conveniently at that point the WT race safety boat appeared and asked us if we were okay. We begged them off and continued to CP7.
At CP7 it became very apparent Deborah had to pull out of the race. Since she wasn't paddling, hypothermia was setting in and her arm was throbbing (later we found out fractured ulna). She was transported out in the safety boat and we switched to one canoe. It was a demoralizing moment. For the rest of the paddle I sat in the middle with the map to navigate but should have kneeled to paddle more effectively. We arrived at CP3 / Transition Area 2 about 6pm.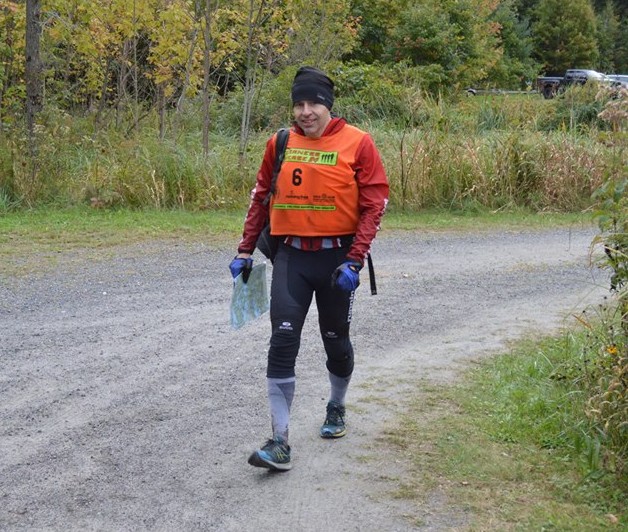 Stage 6 was 30km of wilderness map and compass navigation. At this transition point we had access to gear bins so we did a clothing change and food fuel-up. Darkness was falling at 7pm. The trek to CP9 was fairly easy down a cottage road. The next traverse to the Moon River to follow eastwards to the Moon River Falls and CP10 went well. Brad then shared his knees were in agony and was going to push it to CP11 at least and reassess from there.
Next was the overland traverse to CP11 which proved to be our undoing and for 7 or 8 teams as well. We had picked a direct route to CP11 but in retrospect wasn't the best option trekking in the dark over swamps, bogs and small lakes. The teams ahead of us had a huge advantage in the daytime. About 4am we reluctantly decided to pull out of the race and use the GPS/iPhone to get to CP11. Once at CP11 we ended up leading all the teams out on a three-hour hike to the access road and CP13.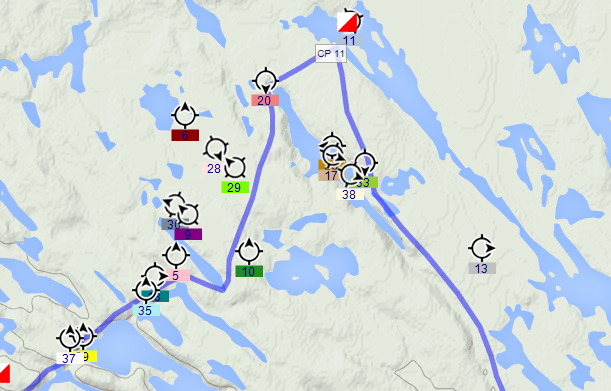 Stage 7 was supposed to be a 60km bike back to Orrville. Rob and I refueled at CP13 and set out on our bikes to symbolically finish the course following Highway 69, 141 and Tally-Ho Swords road instead of a drive back. We finished about 11am Sunday morning.
Doing this race means catching up on much needed sleep. It was a learning experience amid all failures. The fact 15+ of the 40 teams did not finish is an indicator how difficult the race is. I'll back for Wilderness Traverse 2016 to try it again!