The Star Tracks Mountain Bike Orienteering Race is a two-hour timed event hosted by the STARS orienteering club. The event is an exciting, fast-paced mix of technical mountain biking and map-based navigation known as MTB-O (MTBO). Participants need to have intermediate mountain biking skills and basic map reading experience.
This was the 2nd annual MTB-O and an opportunity for Ontario riders to try this sport which has been more popular in Europe and Australia the last couple of decades. Most orienteering races in North America are organized in traditional formats on foot or maybe ski or snowshoe in the winter.
The venue for the October 18th race was Albion Hills Conservation Area near Toronto which has some great single-track biking trails. For me the last time I was at the park was to cross-country ski so my memory of the trail network was hazy at best and time for a pre-ride would have helped immensely.
So how does Mountain Bike Orienteering work?
At the start, each racer got a 1:10,000 scale map showing places in the Albion Hills trail system where the orienteering flags or controls were located. Racers then need to visit fifteen controls in numerical order, trying to choose the best route to visit them all as quickly as possible under two hours. Some controls were on hills others on flats. Being able to decipher map symbols and contours helps you a lot. Each racer gets an electronic SportIdent (SI) timing chip puncher to record each control visit.
Other rules include: No bushwhacking. Only travel on trails, roads, parking lots or open areas and must use only the race map provided. The course included some park roads which may have vehicles so adhere to traffic rules. You could use a compass. When at each control, you punch or beep in sitting on your bike. The race map was a standard orienteering map that does not include all special symbols used in international mountain bike orienteering.
Equipment:
The extra equipment I brought for the race beyond my hardtail mountain bike and helmet:
– Watch to ensure that you return within the two-hour time limit
– Whistle and Cell Phone in case you run into trouble
– Compass. Useful for quickly finding which direction is north compared to the map.
– 1L of Tailwind hydration.
– Bike Map holder. Experienced mountain bike orienteers often use a specialized bike handlebar map holder, otherwise you have to figure out some way to hold your map and keep it dry. Some people stick the map in their plastic map bag slung around their neck (choking hazard in my opinion), or pin the map to their clothing, or tuck the map bag under the bottom of their bike shorts or down their jersey.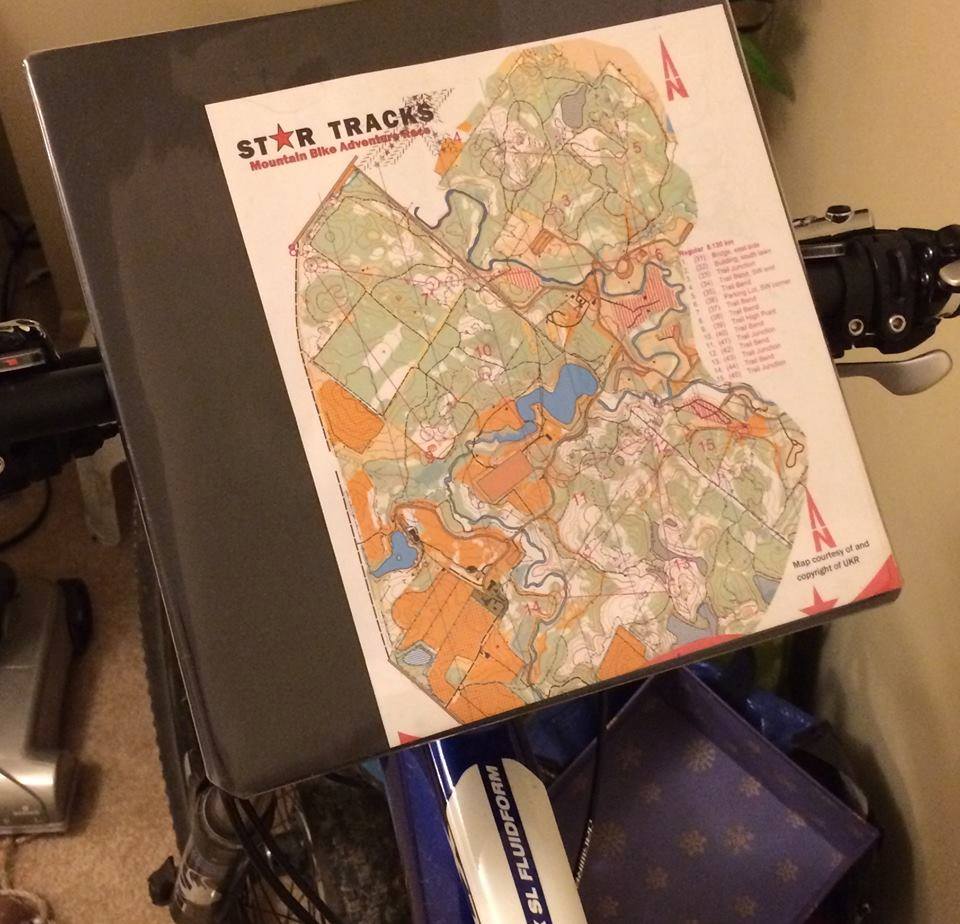 – Weather was about 4 or 5 degrees so dressed for the cold.
Race Summary:
Each rider was started at 30sec intervals from 10:15am beside the Albion Hills Chalet. And off to control one! My friend Steve stayed with me during the entire race as we navigated the course. This meant zigzagging in all directions to do the controls 1,2,3, etc to 15.
CP1 – From start line this checkpoint was at a bridge and got this one fairly easily.
CP2 – This one was northwards to some buildings on the park roads.
CP3 – Still going northwards on the park roads and into the trail system junction got this control. The photo shows this.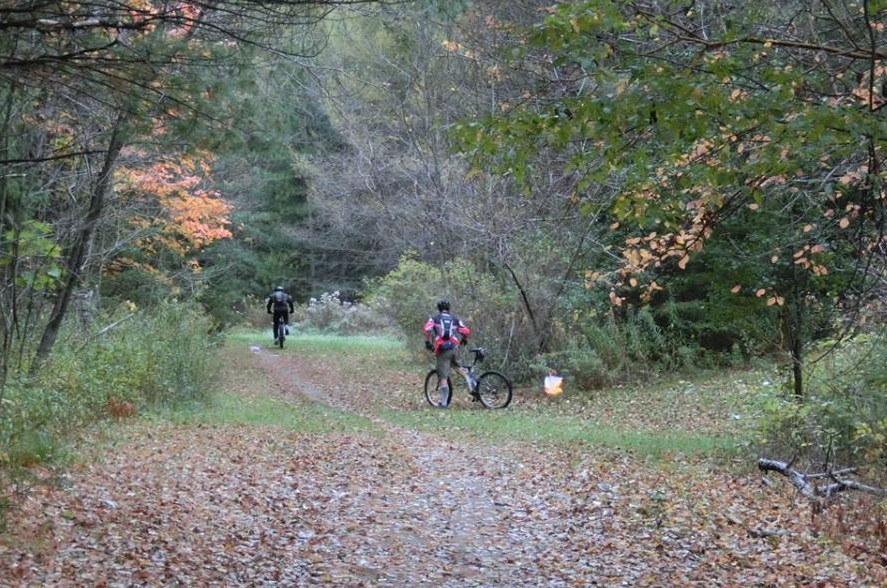 CP4 – Control 4 had riders go west and go into a single-track route to punch.
CP5 – Now back east looping around on the trails for this control
CP6 – This control was south in the southwest corner of a parking lot. The photo shows me punching in at this control.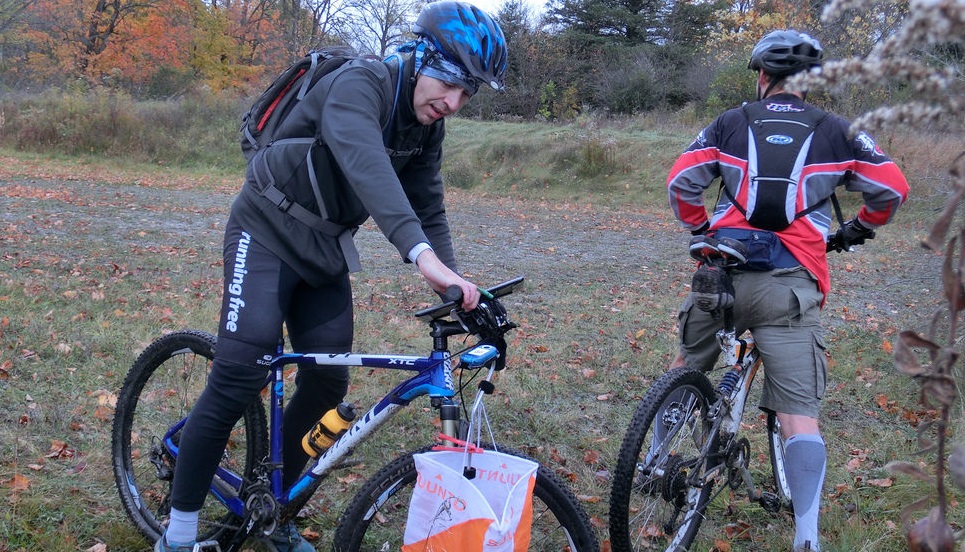 CP7 – Westwards on the park roads for this control which was on a single-tracks route. I had some confusion finding the right trail and we looped around in a circle wasting some time.
CP8 – Made the biggest mistake of the race right here. I misread the map and thought we were going for control 8 when actually we punched control 9! Control 8 was actually further west and on another single-track route. At this point we ran into Greg and Kelly navigating the course.
CP9 – Now back south to redo control 9 which was another single-track route.
CP10 – Now eastward for the control on more single-track.
CP11 – This control was southwards but a small lake was blocking the route so we decided to take the park road around it.
CP12 – This control was westwards but we picked the wrong single-track and got all turned around and wasted some time at this one.
CP13 – This one was southwards and took some riding eventually onto some single-track
CP14 – More single-track riding westwards crossing a creek for this control
CP15 – Almost done, we rode back eastwards for control 15 mainly along the main park road. Then a quick ride to the finish by the chalet!
Kelly, Greg, Steve and myself at the finish control.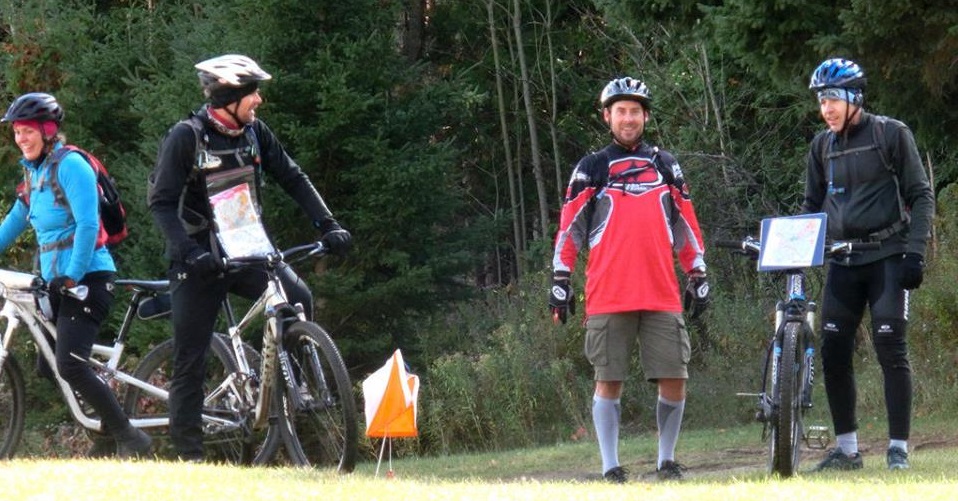 We were all over 2 hour time limit about five minutes but glad to have cleared the course!
Next up starting November to March 2016 I have more planned orienteering races as part of the 2015/16 Orienteering Ontario O-Cup Series. Unlike mountain bike orienteering, you can use your map and compass to travel on and off-trail, running or hiking – or even snowshoeing.
More Info on Orienteering:
Article about a recent Junior MTB-O championship race.