Race date June 7, 2015
Having run five marathons and an Ironman last season, I was planning on taking this season easy.  This was an off-season of sorts for me due to nagging injuries and other personal obligations. The plan was to continue swimming, biking and running, but without any structured training.  
Then I received the race entry to the Barrie Half Marathon through the Team RF kick-off meeting lottery, which was great!  I looked at running a half as a nice way to test my "without-training fitness".  Plus, I have wanted to run the Barrie Half Marathon for the last two seasons because of all the positive feedback I've heard.
On race morning, I parked at the public library a few blocks from the start area. Free parking!  Met up with a few Team Running Free members near the start line before the race to snap a group shot.  Since this is a Team RF sponsored event, there were many red shirts on the course which was nice to see!  There was amazing pre-race support including snacks, coffee, ample port-a-potties, and overall a very relaxed feel.
The race started off nice and chilly, around 10-12C, sunny with some wind; perfect running conditions.  Because I maintained workouts throughout the off-season, but not structured training, my goal was to see if I could run a 1:35 comfortably. Spoiler alert, I couldn't.  For the first 3km of the race, I ran with a big pack going a pace for 1:27 finish, before getting dropped to run by myself around the 8km hill.  Kilometres 3-9 took us into a residential area that was surprisingly hilly and a great way to get a feel for your legs early in the run.  After this section of the race leaves the residential area, a narrow opening spits you out on a path along the lake.  My favourite part of the race, kilometres 9-12 is a run along the shore and looping around the lake.  Although it was the most beautiful part of the course, it was also the loneliest because this section does not have spectators, especially if you are running between packs, as I was.
Once you hit the 12km portion, you enter the start area packed with spectators cheering.  This lasts for about 1km, just enough to give you a boost of energy to finish off the final half of the race.  Soon you find yourself in the 14-20km section which is mostly on gravel and paved pathways with a shaded treeline and a partial view of the lake.  The final kilometre is a loop toward the finish area with a finish chute filled with cheers.
Team RF also had a little screen time on the CTV Barrie evening news that night: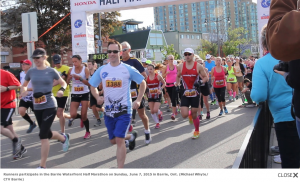 It was nice to see a race with such tremendous community support, from local businesses to charities.  The experience was top notch and there are two tangible takeaways that I think are worth mentioning.  First, the race provides FREE pictures which is almost unheard of.  
The second is the finishers medal.  I spoke with the organizer of the event after the race and I'm pretty sure he told me the medals were designed specifically to open beer bottles, but don't quote me on that. I may have heard what I wanted to hear.  Fellow Team RF member Jason Pallen and I promptly looked to put it to good use. Unfortunately (or fortunately), it was 10am and there were no bottles with caps available for us to open.