I signed up for a 50k trail race (Sulphur Springs) that was on May 23, 2015. I did some research and talked to several other ultra runners about a training plan. The one I developed with input from others was a 16 week plan that started on February 1st.
The first problem I encountered was most of my training runs were to be completed on trails and it was the dead of winter. After a few runs, I discovered the trails were too icy and slippery to run on, and I was risking getting injured. So I decided to go to Running Free Orangeville and discuss my options with Jodi.
Jodi was very helpful, showing me all the different varieties of winter traction aids the store offers. After some talk about the conditions that I would be running on, I chose the Icetrekkers Diamond Grip.
I was excited to test these traction aids out on my home trails in Mono Cliffs Provincial Park. This is the same park that the Chase the Coyote race is run every September.
The sizing is specific to your shoe size. I wear a size 8 shoe and purchased the "medium" size Icetrekkers. They fit snug on my shoe and that is preferred. If they are loose they might have a tendency of coming off during your run.
My first time trying the Icetrekkers was a 10k ish run. I was a little skeptical and decided to take it slow. I was not worried about slipping on the uphill parts of the trail. The downhill portions are what scared me. I was pleasantly surprised at the amount of grip I was getting on the hard snow packed trails. Up or down hill, these Icetrekkers gripped like the Running Free web site advertised "Diamond Grips provide aggressive traction for all winter walking conditions" So my first experience was great.
We had a bit of a mild spell in temperature then a flash freeze. I knew there was ice on several sections of the trails now. Time to put the Icetrekkers to a real test, skating rink conditions!
I started running my regular route and was avoiding the ice patches when I could. There was a double track, flat section ahead and all I could see was ice. I slowed down and gingerly started a fast hike pace, gradually increasing my speed. The Icetrekkers were like magic on my feet. No issues with traction on pure ice. I decided to stop abruptly to test the grip some more. Low and behold I skidded to a stop in less than a foot. I was very satisfied with the results on the frozen trails. Continuing my run, I saw a couple ahead that were having trouble walking on the icy conditions. They stopped me in amazement that I was able to run on the ice. I proudly showed them my Icetrekkers and advised them to go to Running Free Orangeville to get a pair.
I do not recommend these for any road winter running. The hard asphalt and concrete will destroy the diamond grips in no time at all. I have put hundreds of kms on these during winter trail runs and they are holding up great. No sign of wearing down or links breaking.
I have used these on trail shoes (Salomon S-lab 5, Hoka Rapi Nui 2) and road shoes (Hoka Conquest, Altra Paradigm).
The only issue I had was when I used them with my Salomon S-lab 5. I started to develop a blister/callus on the outside of my big toe. See picture below where the large rivet is placed on the shoe.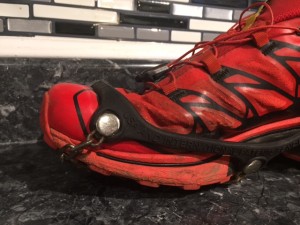 I don't have this problem with any other shoes, so I stopped using the Salomon S-lab 5 🙂
Overall I would highly recommend these traction aids for winter trail running, hiking and walking.