When people mention Easter, many people conjur up images of white bunny rabbits, tacky yellow and purple decor, or oversized choclate eggs. Others, however, decide to lace up their shoes and welcome the spring season with a morning run; and what a morning it was. The Oshawa Running Room's 5k – 10k Easter Dash could not have asked for a better day with a lovely temperature of 10 degrees Celsius with lots of sunshine, and lots of smiles.
The Course
The course started on the boundary of Courtice and Oshawa and proceeded to snake its way through the neighbourhoods of Courtice along Nash Road. The course was almost exclusively on the city side walks, with people only on the road at the beginning due to the congestion. Due to the warm weather, the route remained ice-free making it a very safe course as well. The course was a 'there-and-back' style having participants  run to a water station check point  either 2.5 k or 5 k, turn around, and head on back. Repeating the course in reverse may not be the most exciting thing in the world, but it makes navigating the route a breeze. The course was well marked, with volunteers at every turn so no one panicked with off-course anxiety. Runners were greeted at the finish line by a cheering squad, a photographer, and volunteers that gave out medals and water. I was even lucky meet some other Team Running Free athletes. Just look at them in their snappy uniforms!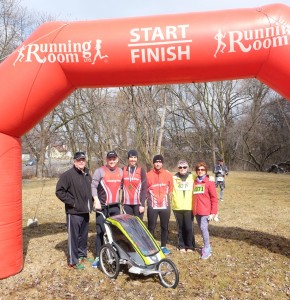 Post race celebrations were held at the Platinum Fitness across the street where they complimentary snacks, pizza, and drinks along with some of their sponsors. The room was absolutely packed so I didn't stay long.
Overall
This was the 4th Annual Easter Dash and I think it is sure to become a local annual favourite. The topopgraphy was very flat, and with the short and medium distances, it made for a quick run. Some people had comments about the uncontrolled route,  but as it was the holiday weekend there were very few cars on the road or pedestrians to contend with. The race started promptly at 10:00 am which is great to see. Too often races start late which starts a domino effect pushing back all later activities. The race might only start 5 minutes late but somehow it ends with the awards being an hour late. Race kit pickup was done two days before and was an easy and painless process. The volunteers were very helpful and had maps on hand which gave me a chance to review the course before race day. The more things that get done ahead of time, the less rushed people feel on race day. If you are new to participating in organized events, this is certainly a great one to start with.