Living in the Washington, DC area (the DMV as they call it – DC/Maryland/Virginia) for the past 4 years has allowed me to take part in really special road races. I would consider a few of them to be bucket list races and the Cherry Blossom 10 Miler is definitely one of them. Earlier this month, on Sunday April 3, I ran this race for the second time. Here are my thoughts on this race: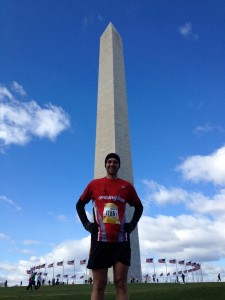 The Course:
The race starts and ends in the heart of the National Mall, at the base of the Washington Monument (see above picture). By mile 1, you are at the Lincoln Memorial and then you cross the Memorial Bridge over to Virginia to the entrance of the Arlington Cemetery. At mile 3, you're running under the Kennedy Centre, right at the edge of beautiful Georgetown and Rock Creek Park. Between miles 5 and 9, you are running around the tidal basin and then around Hains Point, which are lined with cherry blossom trees. The Martin Luther King Jr. statue and the Jefferson Memorial are also along this route. What a great way to take in all the sights in a short period of time!
I would describe the course as moderately fast and mostly flat with a challenging, slightly uphill, last mile. The sights make the race go by fast and the Washington Monument is a great point of reference to know how close you are to the finish. This race is large, with 18,210 finishers this year. Because of its popularity, the registration process is a lottery, which usually opens up a few months before the race. I find large races like this one to be exciting, although it can feel congested for quite a while the farther back you start. It is also a very competitive race because of the significant prize money up for grabs and because it serves as the US 10 mile championship race. You can therefore expect pretty fast times but you may find yourself placing lower than you normally do in your age group.
The Cherry Blossoms:
The National Cherry Blossom Festival in DC is a great (but busy) time to be in the city. Unfortunately for runners this year, the cherry blossoms bloomed early and by race day, they were pretty much done. This doesn't really take away from the race experience but it is always a nice bonus when race day coincides with peak bloom. For someone planning to run this race, I would recommend making it a long weekend in DC to increase your chances of catching these amazing flowers. One extra day can sometimes make a big difference! If it doesn't work out, there is plenty to do in the city anyway.
Meeting Meb:
There was something special this year about the race. The Cherry Blossom 10 Miler happened to be on Meb Keflezighi's bucket list so he decided to run it this year, for fun! I was able to attend a Q&A session that he held at a local running store where he talked about his story and then answered people's questions about his career, his future, and running tips. It was very inspiring and we were all impressed at how nice and humble he is. Afterward, my wife and I were able to take a picture with him and had him sign my training log. A few days before the race, he announced that he would join the 6:00/mile pacing group to help those trying to break 60 minutes for the 10 miler. I saw him once out on the course and it looked so easy for him 🙂
The Verdict:
Meb or no Meb, flowers or no flowers, the Cherry Blossom 10 Miler is a great race. 10 miles is a great distance for those not quite ready for a half marathon or as part of your training for a half marathon. You will find out early if you win the lottery and this will give you plenty of time to plan your trip. Make it a 3 or 4 day weekend and enjoy all the museums and monuments. They're FREE!!!