Running races isn't always about racing to beat a personal best – sometimes; it can just be about getting out there, breathing, taking in the sights…and spending time with thousands of strong beautiful women. For a lot of reasons the Niagara Women's Half wasn't the "perfect" run for me this year, but there were a lot of unique reasons why it was still a great event.
I wasn't able to get to the race packet pickup on Friday and Saturday at the Niagara Square Shopping Centre in Niagara Falls. This meant that I also missed out on most of the great swag that was available on Friday and Saturday (thought I still received a bottle of wine at the packet pick-up just before the race – but more about this in a moment). Ah well, c'est la vie.
My morning on Sunday started much earlier than any normal race day. It was before 4:00 a.m. when my alarm went off – I wanted to give myself plenty of time to get into my Team Running Free gear and drive from Newmarket to Niagara Falls. I had emailed ahead to find out where the race day packet pick-up was, and was told it was at the shopping mall parking lot from 5:00 to 6:00am. I drove like the wind – even risking not stopping for gas along the way and praying I wouldn't run out of fuel entirely – and arrived at the parking lot just before 6:00am…. only to find it deserted. Worried I had missed my chance to get my kit, I headed over to the starting line. Once there, I found the packet pickup desk and had no problem getting my bib and wine. The volunteers couldn't figure out why I had been given the wrong information; they were very sweet about the whole thing and soon this little hiccup was forgotten.
I got to the Niagara Falls Start/Finish Wine (not a typo) just after 6:15, and soon other racers started to arrive. I made a few visits to the Pink Port-A-Potties, which were probably the nicest ones I've ever used in a race. Kudos to the organizers on that one!
While we were waiting, the skies opened up a few times and we were pelted with rain, but the spirit of the volunteers and other runners kept everyone positive. At one point, there were a few hundred people huddled under a long tent for shelter, but the whole time ladies were chatting and snapping selfies while waiting out the rain.
After about 1.5 hours, we were finally invited to line up at the "Start Wine".
I made my way to the 2:00 – 2:30 hour zone where I chatted with the lovely ladies around me.  We were really packed tightly in the coral, and after a few moving speeches, we were all rearing to go. A drum line and the Biker Sisters got the adrenaline going, and not long after we were off!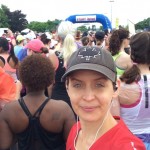 As with any new race, I love the surprises and new scenery that come with a brand new route. The course for Niagara Falls Women's' Half was lovely, even if it was still cloudy out. We passed Niagara Falls twice – how cool is that??
I liked that there were plenty of water and PowerAde stations along the route, and the course was generally a flat one. One aspect of the run that I feel could be improved upon next year is the pace bunnies – there weren't very many or they weren't very visible. Also, I'm pretty sure that the 2:05 pace bunny was actually running a sub-2:00 pace. This was a little confusing, especially for first-timers.
By the last third of the race, I was starting to feel gassed, but I felt I was being pushed along with positive vibes from the women around me. There was a huge feeling of camaraderie and sisterhood at this race, which was amazing.
Fire fighters were on hand to give every finisher their medal, which was unique and featured the likeness of Harriet Tubman.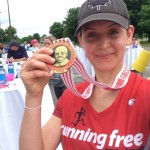 We ended at a tent where we received a post-race food packet, as well as some final words of congratulations from the awesome volunteers. A highlight? Kathrine Switzer high-fived me when I crossed the finish line, which was pretty awesome! Kathrine was the first woman to run the Boston Marathon in 1967. What an inspiration!
Race Results:
I was pleased with my final time of 2:07:27 – it wasn't a PB, but it certainly wasn't a bad time. The crowd support was great, the relatively flat course was nice, and I really loved how there were racers from all over Canada and beyond. This is still a relatively new race and I feel that there are still a few kinks that could be ironed out from an organizational standpoint, but I would consider doing it again.  I highly recommend this race to anyone who is looking for a fun race to do with girlfriends.