Since I went from stability shoes to neutral shoes in 2011 when I started wearing orthotics for pronation control, I have found a great variety of useful neutral road shoes but had little luck with neutral trail shoes.
In 2013 or 2014, I found the Salomon Speedcross. I went through three pair and was pleased as punch with these – the primary limiter was the lightweight nature of the shoe but as two hour-plus trail runs are rare for me, I did not need loads of support.
In 2015, Salomon did away with the Speedcross after version 3. It was superseded by two go-forward models – a high-end Speedcross Pro and for the pedestrian trail runners like myself, the Speedcross Vario, at a lower price than the Speedcross 3.
I picked up a pair of Speedcross Varios: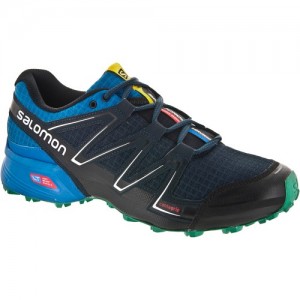 There is not a lot new in the Vario for those familiar with the Speedcross. The primary item I noticed was the removal of the quick-lace system. Though well-liked by many, I found this system cumbersome and leftover laces dangly so these laces are great. They are made of material that is fairly thick and have yet to untie for me during a run.
I am pleased with the Vario. The rubber toe guard keeps my clumsy toes unbroken and me upright. The upper part of the shoe and tongue keep debris out while running. There is plenty of room for custom orthotics.  The shoe is lightweight, great for my trail runs that do not exceed 20K, but perhaps not for everyone. These are also as comfortable as any lightweight shoe I have.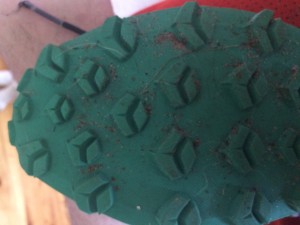 The grip of the Vario across surfaces is solid. It can get the job done on all surfaces, even concrete or asphalt when you find yourself there, but this is not a road shoe. There is no reason this can't be used regularly for obstacle course running, hiking and other outdoor activity.
If you are novice and low-mileage on the trails like me, this may be a shoe for you, check it out. If anyone has thoughts on a great neutral trail shoe for longer mileage, please post in the comments.
Happy trails!