Runners and other athletes are notorious for getting sore muscles after a hard workout. One thing I have always been negligent of after a run is stretching or foam rolling. I know that rolling allows the body's muscles to recover faster and prevent injuries, but most days it's literally the last thing I want to do!  I have a traditional yellow foam roller, but to be perfectly honest, I had always felt silly and uncoordinated when I tried to use it.
Enter the Addaday massage roller. Addaday makes many different types of massage rollers, and thanks to the Team Running Free lottery, I was able to try out the "Type C" roller.  It looks like this: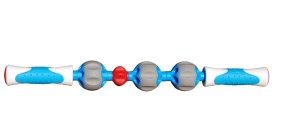 It has plastic grips on both ends that are really easy to hold, and little precision point rollers that let you massage your legs, back, arms, neck, etc. I found the roller helped me to reach many sore spots on my IT band, feet, quads, back, calves, hamstrings, and shins.
With respect to the design of the roller, I really felt the ridges on the round gears clearly pressing into specific muscle areas, loosening knots along the way. Personally, I found the roller was most effective on the different muscles in my legs, but I did get some relief when I used it on my back and arms; the only problem was that I wasn't able to press as hard in harder-to-reach areas. Here's a tip – using deeper, longer strokes helped me to target deep tissues more effectively, while small shorter strokes helped with knots in specific locations.
This product would be great for any athletes who want to loosen tight muscles either before or after workouts without having to deal with the bulk of the typical foam roller. The Type C massage stick is easy to use, is lightweight and portable. I also love that there are instructional videos available on the Addaday website; they helped me get the most out of my roller. My Addaday roller will be me after races from now on, and is definitely a great recovery tool to have around – and I'm pretty sure that when this one wears out, I'll buy another one. Give it a try!