After wearing Mizuno's cushioned neutral road shoe the Wave Rider, since early 2011 I was expecting version 19 to be a clone of the 17s. In reality, they actually feel different, despite feeling the same in terms of sizing.
Out of the box, it appears to be the same shoe, except for one thing – the laces – they have a bungee type of feel and a bit of new elasticity when tying.
When I started running, I immediately felt a difference.
Version 19 feels as if there is more support on the back 3/4 of the foot.The shoes also make it feel as if my toes are closer to the ground. Everywhere there is impact, everything feels good, this is the same cushioning I want and have had for my easy and long runs with the Wave Rider. And Mizuno lists this as the same 22mm/10mm back/front height. So the feeling I noticed appears to be improved cushioning  within the 22mm of support at the back of the shoe, achieved without extra weight to the shoe. Nice.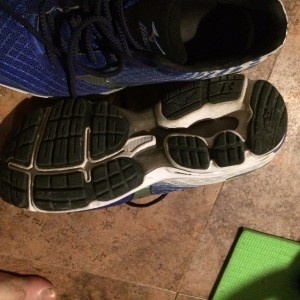 I've used the 19s for road and non-technical trail runs at various paces and they work fine on both types of terrain. I expect to get my standard 640K (400 miles) out of these Wave Rider 19s. I bought them based on my success with previous versions and I think I like 19 marginally better so surely I will back for another pair before version 20 comes out.