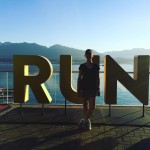 Lululemon said that their SeaWheeze half marathon is "more than just a run, it's an out of this world weekend where you'll get your yoga on, crush your running goals, and celebrate it all with family and friends at the best outdoor concert of the summer." After experiencing the race for myself firsthand this year, I would have to agree!
Registration for SeaWheeze opened in March – and all 10,017 spots sold out in 10 minutes. I was lucky enough to snag one of the coveted bibs, and am thrilled that I was able to represent Team Running Free in Vancouver.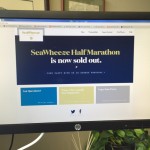 When I reached the expo on the morning of Friday August 12th 2016, I went straight to the Vancouver Convention Center to pick up my race packet and check out SeaWheeze shop filled with exclusive prints that runners were invited to access before the public. By the time I arrived, there was a short line of people waiting to get their race kits….and about 3000 people waiting to buy exclusive gear at the SeaWheeze store. Apparently, some people had started to wait in line over night to be some of the first to shop! I opted to forgo the shopping and, instead, grabbed my kit that included a pair of SeaWheeze sunglasses, a water bottle, and tracking tags for shoes instead of a bib. I loved that the race kits were packed in a cute mesh gym bag that I will use over and over again. In case you are curious, here's a peek at the secret agent-themed gear from this year.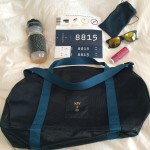 Lululemon worked hard to create an entire weekend with a fun, positive vibe and many activities for runners and non-runners alike. The experience included lots of yoga, including Rise and Flow Yoga, Nooner Yoga and Sunset Chill Yoga. Outside the Convention Center, Lululemon had set up vendors like David's Tea, Nuun and Saje that offered samples, and awesome services like hair braiding, nail painting and Henna tattoos. The whole experience was perfectly tailored to Lululemon's stretchy-pant wearing target audience.
Here are a few notes about the race:
The race took place on a very warm and sunny Saturday morning. The SeaWheeze course featured 21.1km of amazing views – it started in beautiful downtown Vancouver and then entered a stretch of hills almost right away. The course boasted a few big ones with a slow and steady elevation gain, but overall they weren't bad.
There were many SeaWheeze "pace beavers" to follow, and each of them was a highly spirited and friendly individual – they were a delight to meet!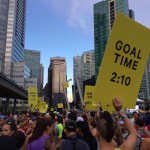 This year's SeaWheeze was clearly a destination half marathon, which attracted a lot of out of town runners. There were runners from all over Canada and the US – I even met a few that had come all the way from Europe!
We passed numerous fun and innovative cheer stations. At one, there were folks were taking an actual class and cheering for the runners at the same time. At another, police officers doused runners with water guns. Yet another featured a yacht full of cheering spectators. I absolutely loved the creativity and the energy at each one.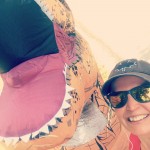 The finisher's medal was gorgeous – it became my favourite medal the moment that I saw it. And, in keeping with the Secret Agent theme, it had a clever coded message inscribed around the edge. After some research, I figured out the message. This is the fifth year of the race, and by adding 5 to each letter, you get "Mission Accomplished".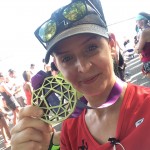 Once runners crossed the finish line and collected their medals, they entered a line to pick up additional swag including a Lululemon hat, a Saje mini recovery kit, Nuun tablets and Kind Bars. The line eventually ended at a post-race brunch, which included a nice egg sandwich, grapes, and a sour cherry tart. So good!
When the race was over and done with and the runners had a chance to rest, runners were invited back to Stanley Park for the Sunset Festival. The location couldn't have been better, and there were performances by Dear Rouge, Youngblood, and Chromeo. I was happy that I ate a good dinner before heading to the festival because the lineups for food and drinks at the festival were super long.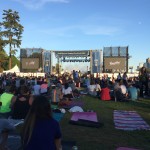 I think one of the main things I love about SeaWheeze is that it was such a FUN run. There were lots of speedy runners on this course, but with all the cheer stations and awesome volunteers I never feel that internal pressure to pick up the pace like I do with other races. I loved the entire experience, and would recommend this race to anyone.