Nathan Trail Mix 4 Plus
They definitely got this one right.
Big bottles.
Bigger pocket.
I picked up the Nathan Trail Mix 4 Plus running belt in the spring, and I am glad I did.  Having "borrowed" my wife's belts in the past, I had an idea of what I was looking for:
– High fluid carrying capacity
– A pocket that holds more than a dirty tissue
– Comfortable fit
– No Velcro!
In looking at the options that fit the criteria, there were not too many that covered them all, but the Nathan did.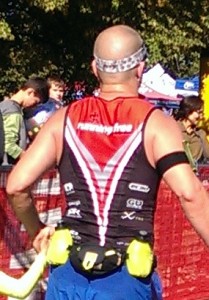 Capacity:  4x 10oz – That's as big as they come.  If I'm doing a shorter run, I just fill 2 bottles.  Having the 4 bottles also allows for a variety of drink options, depending on your training needs.  (Water, Electrolyte drink, other).  I also double as the family pack mule carrying water for my two kids when we run together.  So the 4 bottles come in handy.
Pocket:  I have fit two cell phones and 5 gels in it while out for a run.  It did bounce a little more than I'd want… but that isn't unexpected considering the weight of the load.  Under normal use, it's more than sufficient.  Along with the main pocket, it has a small pocket on the exterior with a Velcro fastener which is a great place to put used gel packs, separating them from the full packs.
Comfort:  The belt sits well on the waist and is comfortable.  I never notice it moving when running.  Having just run a half marathon this past week, with 3 bottles filled, I didn't even notice the belt.  As an aside, I am pretty slim and initially found that I couldn't cinch the belt down quite tight enough to stay around my waist.   However, after using it for the season, the belt has found its sweet spot and works without issue.  It just took a little for me to get used to.
Velcro:  Nothing touches clothing!  Having used a belt by another manufacture, which used Velcro to secure the belt around the waist, I found the Velcro would catch on the shirts and pull the fibers, leaving the shirt extra worn on the front.  The Nathan has a solid clip that locks and swivels as needed.  No Velcro.  No ruined shirts.
Although the belts do not come with something to attach a race bib to, you can buy elastic cord and clips.  I opted to cut an old pair of elastic shoes laces to size and used the clips that came with them.
Lastly, the bottles are bright yellow. Highly visible.  It's a little thing.  But I like colour.  And I like bright.
All in all, it's a great training partner.
http://www.runningfree.com/products/Accessories-362/Hydration-371/Belts-400/Nathan-Trail-Mix-4-Plus-p44703/?pstart=1