In late 2014, the neutral lightweight from Mizuno – the Wave Sayonara – was released. With Mizuno renumbering shoes every six months, version 2, released in early 2015, was my first run in the Sayonara.
The Sayonara replaced two prior lightweight models – the Wave Precision (my race shoe of choice) and the Wave Elixir. With all of my PBs having been run in various Precision revisions, this was an important update for me.
The Sayonara and its predecessor the Precision, are lighter versions of the Wave Rider, with all parts of the shoe having 2mm less cushioning than the Rider. The Sayonara also has more colour than substance on the shoe's bottom so they are only good for road runs.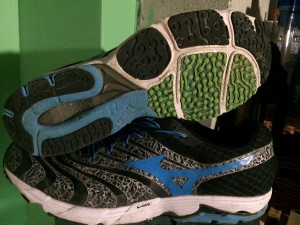 Taking them out of the box, it was obvious the Sayonaras were even lighter than the Precision. The Sayonaras still have a roomy toe box and, more importantly, enough room for my jumbo orthotics. The shoe is comfortable, despite the thin platform beneath my orthotics. The lacing was strange – they are so short you have to pick one of two top holes but I actually had to choose a low hole toward my ankles to keep my heel from coming out of the shoe when I pushed off. But with that unusual hole in use, all feels normal once laced up.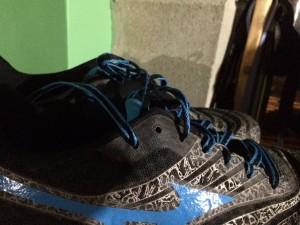 With the Sayonara offering less support than the Wave Rider and having less mileage in its life (400k versus 640K in the Wave Rider), I use it only for speedwork and races. They keep my Mixmaster form as efficient as possible and I'm as quick as ever. The only downside is there less support than the Precision model. I've worn the Sayonaras for a couple marathons and that appears to be their distance limit and that's pushing it. My old hips and foot bottoms felt beaten up after a marathon in the Sayonara 2. Hopefully, this shortcoming is addressed in versions 3 and 4, which are currently available.