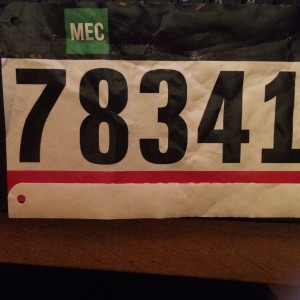 In 2012, prudent Central Ontario runners rejoiced as the MEC races series that had been successful in other cities debuted in Barrie. The cost? $15 per race or $20 on race day.
This series had five races in 2016.
Race One – April 5K & 10K, Barrie Waterfront – In 2016, this was a chilly tour along the rail trail and asphalt paths along Barrie's Waterfront.
Race Two – May 5K, 10K & 15K Trail Races, Springwater – This has a remarkable variety of terrain within the 15K of trails. Even two crushing 15% inclines.
Race Three – June 5K, 10K & Half Marathon, Oro-Medonte Rail Trail – This is a quick route along the flat, straight Oro-Medonte rail trail. Unlike the first two races, chilly days have given way to warmth and an unshaded course should be prepared for if you get a sunny day. This is the one race with offsite parking but a shuttle bus is provided or you can take a 1K jog.
Race Four – September 5K, 10K & 15K, Orillia Waterfront – This is an out and back along the Orillia Waterfront.
Race Five – June 5K, 10K & Half Marathon, Oro Fairgrounds – This is a challenging run through the country. Runners enjoy an absence of cars but will meet hills and potentially brisk late October wind.
Tentatively 2K through Half Marathon distances will be added to an event in Alliston in 2017.
These are well-run races with excellent value. Chip timing was added in 2014. Distances through 15K have remained $15 while Half Marathons are $20. This involves courses not generally used in other races. If you are into swag and bling, these races are not for you. There are no T-shirts or age groups prizes but you'll have money left in your pocket once done to enter races that do. Recommended!