Race date June 16, 2016
If you work downtown, this is a great race for those who want to squeeze in a quick fun-run after work in the summer, enjoying those hot summer days.  The race usually happens around the same time each year, this year being June 16, 2016.  This race is in support of the United Way, with all proceeds going to supporting families and communities in Toronto and York Region.  Other events run throughout the year with a similar goal are the Dragon Boat Race and the CN Tower Climb.
Events run starting around 5pm, with free massages, face painting, and a make-shift dance and stretch party in Nathan Phillips Square.  It is also a great chance to snap a picture with the now iconic "T O R O N T O" lettering sign in front of City Hall.
The race started at 7:30pm and was a unique 5-km route that runs with downtown Toronto rush hour.  It's good to keep that in mind for more serious racers, as I would categorize this as a fun-run for charity because conditions aren't ideal for racing.  Running with rush hour traffic also means sucking in exhaust most of the time.  At the start, there were no corral, so for future reference, you will need to place yourself appropriately at the start line. Otherwise you will either be trampled, or be trampling.
The course starts on University Avenue, just north of Queen Street.  You run north on University Avenue, around Queens Park Crescent East, and north until making a right on Bloor Street.  Along Bloor is where there was the one and only water station, followed by a right down Bay Street shortly after.  Then a straight shot south with a slight downhill on Bay Street all the way until the next right on Queens Street, finishing the loop after another right on University Avenue, where there was about 200m to the finish line.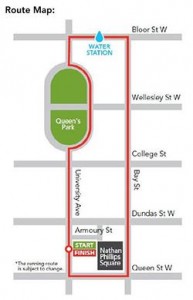 On their website, it states this race "Help raised $400,000 for our communities across neighbourhoods in Toronto and York Region."  Also, it was in the heart of the financial district, making for a very nice post-race venue in terms of food and libations.  Definitely something I would support again if I am available.