I have to start off by saying that I hate duffel bags.  I hate carrying a heavy bag over one shoulder, and having to walk around with my body slightly slanted towards one side, having the bag swinging around knocking me about.  I much prefer a comfortable backpack, even if it makes me look like I'm going to chemistry class with a sack full of textbooks.   As a triathlete, this bag is everything I need for those early morning swim workouts, or even race-day carry all.
The TYR Alliance bag fits all of my gear comfortably, and TYR is also a Team Running Free sponsor and product partner! The main compartment has a top flap opening, which easily allows one to fill the backpack the same way you would a duffel bag. Inside the main compartment, there is an inner pocket/flap to put your fins, or as I like to use it sometimes, for my laptop.  When I go on my swim workouts, I am able to fit a pair of fins, my towel, flip flops, and any change of clothing I plan to bring.  There are also a few mesh compartments for your goggles and/or swim caps.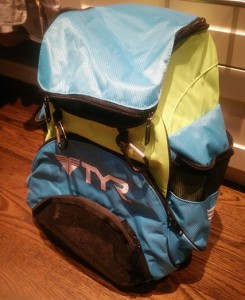 I noticed a few people at Ironman Tremblant with this backpack this year.  It is the perfect size to carry your day-to-day workout gear, as well as race day gear.  I was able to pack my wetsuit, extra bottles, nutrition, and cycling shoes into this bag on the morning of IM Tremblant.
However, I think one would have to be careful with how much weight to put into this bag. The material doesn't strike me as being ultra durable or strong and the stitching seems mediocre, however, I have not tested this.  I have used this bag for roughly 9 months and no issues thus far.
Overall, I am very pleased with the TYR Alliance Team Backpack.