My sock supply had started to dwindle, so I was absolutely thrilled when I won a credit towards SmartWool products in this year's Team Running Free lottery! I selected four pairs of socks to try out – which was hard to do, because there was a great selection of colours and styles on the Running Free website. When they arrived, I felt like a kid at Christmas J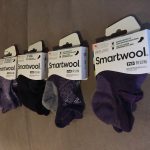 Here is what I found:
PhD Run Light Elite Low Cut: I really liked the cushioning offered by these socks. I wouldn't go so far as to call them "plush",but the toes and heel were really comfortable. Also, even though I was testing wool socks in the summer time, they felt soft and spongy–not itchy. 
PhD Light Elite Low Cut: This pair really provided a snug, stabilizing fit, and they also felt pretty durable. I took this pair cycling a few times too, and was happy to find that they stayed put in my shoes. There's nothing worse than having a pair of socks travel around in my shoes. 
PhD Ultra Light Low Cut: These socks felt extremely thin. They are a merino-and-nylon blend that feels like it will be durable over many miles. They held their shape well throughout some of my longer runs.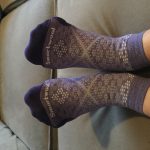 PhD Light Elite Micro:I think these were my favourite of the four pairs. They felt good, stayed put on my foot and kept my feet dry. They were thin, light and breathable – which was important, since most of the runs I did with them were in August! They also gave just a little bit of cushioning underfoot to help with shock absorption.
The packaging on the socks said that they were washer and dryer friendly, and so far that has held true for all four pairs. I have heard people comment that they have kept their SmartWool socks forever because they retain their shape even after years of use – I'm excited to see if that holds true. I'm also excited to see how they stand up to the colder Canadian months. Overall, I was impressed with the socks, and would recommend them to just about anyone!
Happy running!