This was a second-year event in the annual Whitby Running Series that is headlined by the WIN Marathon.
There was little detail on the website so it was a bit of a mystery prior to arrival at the host site, the Brooklin Pub. But what does one expect for a bargain price of $15? I've paid four times that amount for horribly mismanaged races.
On arrival, all was ready to go. Bib and chip pickup took only a minute and there was a warm pub we were welcomed to loiter in while a band jammed. All was smooth pre-race.
It was a simple route for the race. Some ice on the route was uncontrollable but we were warned and we knew approximately where it was. But perfect for the race – less than 100 participants so you don't need runners spread over miles and miles in winter weather. No one got lost and a few of us has spills but all returned in great spirits.
It got better from there. Our $15 didn't just get us entry into the timed race…it also got us a finisher's medal that opens beer bottles…and a funky ice scraper…and door prizes (varied but the mittens below plus a technical top for my group of two)…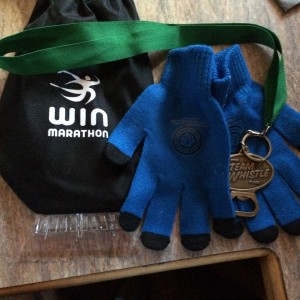 …and all-you-can-eat chicken wings…and a pint of Steam Whistle.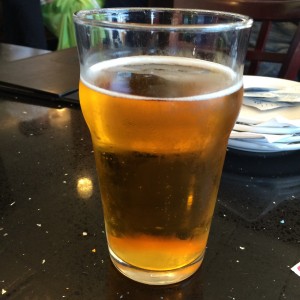 I couldn't have asked for more. Certainly the best-value race I've entered in. But I think this is among the best of the Ontario 5K races I've entered. I shall return next year. Well done Ian and the Whitby Running Series!