Paris to Ancaster – P2A – April 30, 2017
http://parisancaster.com/index.html
Wet. Grey. Dirty. Awesome.
Having never done an off-road race, this was an eye opening experience.  But a total blast.
As with any race, the weather conditions are unpredictable, and this one guarantees a few areas will be purposely made into mud troughs.
To set the stage, the following description is posted on the homepage of the race:
"For over a century the roads of northern Europe have been home to the toughest bicycle races in the world. The most famous of these, Paris to Roubaix, takes place each spring over brutal cobblestone roads that have been preserved in their historic condition for over 100 years. Inspired by this classic race, the Paris to Ancaster has taken place for the past twenty three years over the roughest farm lanes, trails and gravel roads we can find. Combined with unpredictable spring weather and the largest field of riders assembled in Canada, it has become a classic race experience for everyone from average riders to Canadian Olympians."
The race has multiple distance options: A 20km Family category, to a 40km challenge, to the flagship 70km distance.  (The 40km distance is the last 40 km of the 70km course)
To begin, kit pick up can be made on the Saturday, or race day Sunday at the Community Centre.  The Expo has a few vendors set-up selling or advertising. This worked out for the better as a fellow rider wanted an extra layer for his gloves and picked up a base layer glove.  Kit pick up was straight-forward, but didn't include much. There was the bike plate with timing chip (equivalent to a bib), a magazine, and two other advertisements.  This is a no-frills race.  If you want a shirt, it needed to be ordered and paid for when registering for the race.  You are basically paying for a race plate and a the logistics of a pretty cool race.
As the race is point-to-point, the organizers have pre- or post-race buses and trucks to transport racers to the other side of the race as needed.  (Of course, there is a fee associated with this service.) My bus ticket was attached to my race kit, however, the other racer with me was missing his.  The individuals distributing the kits asked that he prove that he had paid for the bus, so after some frantic scrolling through his phone, he found his confirmation email and was given a ticket. As we were coming in from the east, we parked at the end of the race, and took the bus to the start.  This was convenient enough.
The 70km race starts in Paris, Ontario at the Green Lane Sports Park and ends in Ancaster at the Robert E. Wade Ancaster Community Park.  In looking at driving directions, it's 32km apart.  However, there is nothing straight about this race.
The Drive: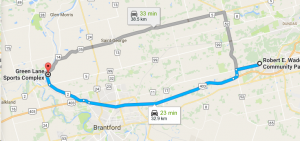 The Ride: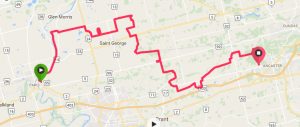 As we were bused to the start line, we wanted to ensure we got there, and the bikes on the truck had enough time.  By getting there early, we had to stand outside for an hour + in the cold.  Not great.  But not unexpected.
The star is set-up in waves, based on Pro's going first, and then based on expected finish time and when you signed up.  Signing up early to get the wave you want is definitely suggested!  The early waves do a good job of churning up the course, which means the later waves get muddier terrain.
Having never done the race, and doing it on a mountain bike, I expected to be on the slower side of the scale, so started in the last wave, #4.  (Don't be in wave 4 if you can help it!)
The 70km race ended up being 68.km down paths of old converted train tracks, single track, double track, through private farmers fields, around private orchards, in one farm houses' driveway and out another… and a few short stints on actual road.  As the course is basically off-road, it is not smooth so the front suspension on the mountain bike was a bit of a blessing.  And it had poured that morning, so there was a lot of mud or soggy ground.  This cause the wheels to sink in just that  little bit more and lead to a whole lot more traction/friction.
But lets be honest, we know it's going to be dirty.  A lot of people went down.  And yes, I spilled when my back tire got out from under me.  Luckily I bailed onto some elevated grass.  Had I tipped the other way, I would have been in a mud puddle.  Being on a mountain bike, with wider tires than a cyclocross bike, I was able to navigate the mud a little better than some of the people around me, but the trade-off is a heavier, less aero set-up.
Along with the challenging terrain, mother nature  likes to throw in a challenge of her own.  Not only did she dump rain before the race.  (Thankfully none during the race!)  She did stir-up a brutal headwind.  Amazingly, the headwind came from every direction you happened to be heading into!  The bar ends on the bike gave me something to lean my forearms against when trying to get a little lower out of the wind.
The only negative aspect about the course were two bottlenecks caused by deep ditches that you had to dismount and carry your bike down and then back up.  These were on single-track spots, and caused a bad backlog in racing traffic.  My official time was 3 hours, 41 minutes, however, my Garmin showed a difference of 24 minutes between elapsed time and moving time.  So take it for what it is… part of the race.
After 68km of mud, wetness and wind, in the last half km the final challenge is a steep uphill climb to the finish line.  If you can make it up the hill, on your bike, good on ya!!!  She's a doozy, especially when your legs are already screaming from the race.
The races I enjoy the most are ones with spirit and this one had a lot of it.  There were a lot of volunteers and fans around cheering.  The girls giving out jube-jubes were a blessing! What a great pick-me-up! Racers checked in on those who had gone down.  When I spilled, two racers behind me called out as they passed to the make sure I was ok.  At other points, as some racers were forced to walk their bikes through mud, if another racer was trying to ride through, a path was cleared for them.  When I was pushing through a particular long mud stretch, I called out I was coming through, and the walking racers stopped and moved up along the edges to let me through.  The highlight of my race was hearing a father call out to his young son "Whoa, he got through! Did you see that? He made it through that!"
I have to admit, it made me feel pretty cool.
The 70km distance is not a race for the untrained.  But no challenging race is.
Paris to Ancaster (P2A) is a race definitely worth training again for!