An early spring 5k run and walk, 10k run – April 23, 2017
Small race for a great cause.
Shayne's Shore Run is a relatively new race in Whitby, Ontario. In 2017 it was not chip timed, but the organizers offered a medal and a technical shirt.
Shayne's Shore Run supports the Ontario Shores Outpatient Youth Transitional program which helps adolescents with mental problems. It is organized by Shayne's family so that others have a better chance at fighting against mental illness than they did. Shayne took his life at the very young age of 17 because there was no similar program back then which would have helped him transition from an inpatient program to an outpatient one and from a youth program to an adult one.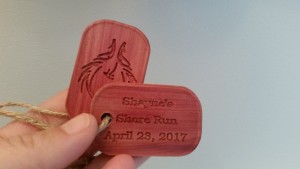 With such a noble cause a few hundred people gathered for this year's 5 km walk and run and 10 km run. The organizers made a lot of effort to please participants. The technical shirts came from New Balance and were really high quality and nice. The medals were  a perfect fit for the cause.
The course is nice and scenic, a little bit challenging with a few ups and downs but nothing major. The weather happened to be perfect for this year's run.
There was food, coffee and water for before and after the race. The course had 2 water stations which we hit twice each as it was a loop.
Overall, it is a nice small race for a great cause. A perfect training race or a nice day out for those who just want to get moving. I was told that it might be chip timed in the coming years once the number of participants increases.