The Barrie Waterfront Half Marathon, an annual event, took place June 4th this year and featured a 5k, 10k, half-marathon and kids' fun race along the Barrie waterfront. The race, sponsored by Honda, Running Free, Nuun and others, runs along the paved waterfront trail. It's a route I have run a few times. This year I planned to run the race with my wife, who would be running her very first 10k. Understandably, she was apprehensive to begin with. We awoke to the sound of heave rain and saw this on the radar: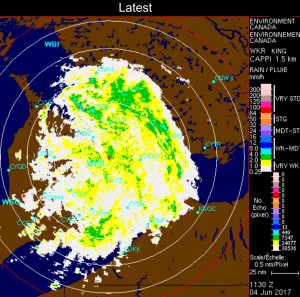 Not only was it supposed to rain ALL day, but it was miserably cold and windy down at the start line. SO we decided to abandon ship and head to the local gym to do our own indoor version of the race instead. Here is my review:
Venue
The race venue, Goodlife Fitness in south Barrie, has lots of equipment and fitness things. Mostly we were concerned about the treadmills, and they were functioning so that was good. The air conditioning was broken, so it was pretty stagnant. Weather was good inside though- it definitely wasn't raining.
The Course
The course was very flat, plain, and relatively unexciting. To be honest, it was probably the most boring 10k route ever. Luckily I had Star Trek to watch on my phone. The race start time was 7:30am, nice and early.
The Race
My wife got an early lead – knowing there were no timing chips, she started while I was still filling up my water bottle and changing. Sneaky. I finished first with a time of 45:07, she finished second with a time of 1:18:03. First race AND a podium finish? Smiles were had by all, and most of the other patrons were probably confused about why we were wearing race bibs. When life gives you lemons, make lemonade! It looks like about 40% of the racers for the event (5k, 10k, half marathon) had the same idea about the weather and were no-shows. I don't blame them- not every race is about being a die-hard, or trying to win, or sweating it out at all costs. Sometimes you just want to have fun. But…just because the weather changes plans doesn't mean you can't still have fun!