GU energy labs, based out of California, creates nutrition products for almost every category, including gels, waffles, electrolyte and recovery beverages and chews, including a separate line (Roctane) for long distance endurance events. Reviewed here are an assortment of GU products representing a cross section of their range.
Conflict Disclosure: GU energy is a co-sponsor of the Team Running Free Program; I am an ambassador for Nuun, which is a GU competitor in the beverage market.
Now, for the nitty-gritty!
GU Roctane Gels –  Chocolate-Coconut and Sea Salt Chocolate
The GU Roctane line is a series of products that are designed for long distance endurance events. As such, they feature a slightly different makeup than their other gels. They are a blend of maltodextrin and fructose, with BCAA's and some electrolytes added. Compared to the regular gels they have more than double the sodium, more carbs and proportionally less sugar. Some flavours have 35mg caffeine. The flavour on both of these gels is absolutely excellent, however the presence of fructose can be an issue for many athletes. Malabsorption of fructose affects most healthy people to some degree; in one study, 58% of subjects who were fed fructose showed detectable signs of malabsorption (1). In many people, this can lead to colicky abdominal pain, flatulence and diarrhea (2) – or, referred to in runner's circles, it causes a "Gut Bomb."
As such, the inclusion of fructose as an energy source in so many of GU's products is perplexing. Their reason for doing so appears to be based on the claim of using 'non-competing pathways' for carbohydrate metabolism. Maltodextrin is quickly (or slowly, depending on the type) catabolized to glucose and used directly by cells in the body, while fructose is broken down, albeit more slowly, by other enzymes. However the end products are the same.
There is evidence that single carbohydrates can be absorbed by the gut at a rate of 50-70g/h(3), equivalent to approximately 2-3 gels, and that the particular blend used here can allow more to be absorbed – 105g/hr (4 gels)(4). Obviously this has advantages for athletes doing high workloads for a very long period of time. BUT this is only an advantage if your gut can handle it without reducing your race to a series of potty breaks…or worse.
These gels do taste really good, and if not for the fructose would probably be a top pick. However I highly recommend that if you aren't sure of how your stomach feels after using a fructose-containing product, then try the GU products before a race/outdoor bike or run. Just in case.
GU Gels – Vanilla Bean, Peanut butter
The plain GU gels almost universally taste good. While some of their flavours (like Salted Watermelon) are either love-it-or-hate-it, staple flavours like peanut butter, chocolate, salted caramel and vanilla are usually good across all manufacturers, and GU doesn't disappoint here. The peanut butter in particular contains real PB so the flavour is spot on. However, like all GU gels these contain maltodextrin which imparts a particular taste. They also contain fructose as their second source of carbohydrate which creates the same concerns as above. The regular GU gels have a small amount of BCAA's added, and the amount is a little bit less than the Roctane gels. If you're able to tolerate fructose, these gels taste great, are inexpensive and easy to find.
GU Stroopwaffels – Salty's Caramel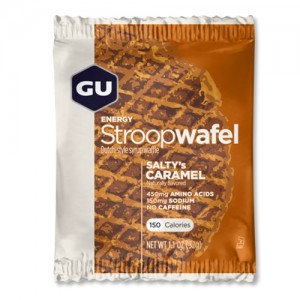 Most sport nutrition companies have now jumped on the Stroopwaffel bandwagon, and it's a product that doesn't really fill a clear niche. Presumably, they are used for either pre-race nutrition or for those who prefer whole-food nutrition on very long events, such as long distance triathlon, ultramarathons, hiking etc. The thing is, for those types of events, there's no reason why you can't just eat a granola bar, which offers an almost identical calorie an nutrient makeup for as low as 1/10 the price. If they're just for a snack, then they are prohibitively expensive.
As far as this particular product, the taste of the salted caramel waffels is good – not too sweet or heavily flavoured. They are less sweet than the actual Dutch ones, and on par with the Stinger brand waffels. Like all GU products, BCAA's are added to the recipe to aid in muscle recovery.
GU Brew –Light Carb Lemon-Lime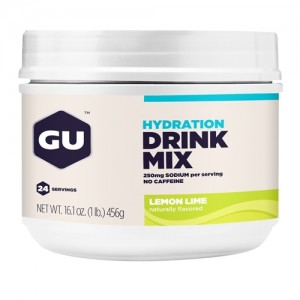 GU is very close to a winner with this product. It is a maltodextrin and fructose based electrolyte beverage and it contains about half the amount of carbs as competing beverages. This means it can be used for training, where energy needs might be less, as well as competition. The flavour is very light and there is distinctly less sweetness with minimal acidity. The taste is unusual at first but it is very easy to drink while doing intense exercise. It contains an appropriate mix of sodium and potassium and BCAA's. If you are able to digest fructose without stomach problems, then this is a real winner for an all-around hydration option and one that I highly recommend.
In summary, these GU products may or may not be suitable for you depending on your stomach's response to fructose or fructose blends. However, they do almost universally taste great.
References
(1), (2) Ebert, K., & Witt, H. (2016). Fructose malabsorption. Molecular and Cellular Pediatrics, 3, 10. http://doi.org/10.1186/s40348-016-0035-9
(3).(4) Jeukendrup, A. (2013). The New Carbohydrate Recommendations. Nutritional Coaching Strategy to Modulate Training Efficiency. Tipton KD, van Loon LJC (eds).  http://doi.org/10.1159/000345820