April 30, 2017 marked one of the most famous gravel grinders in Ontario – The Paris to Ancaster race (P2A). This race has been around for over 20 years and is now a popular bike challenge combining elements of rail trail, gravel roads, double track, farmers fields, and plenty of mud. This year's race was a sold out event with a total of 1400 riders and that doesn't include the 40km or 20 km participants!
Weapon of Choice
As many cyclists know, the bike industry is continually developing new products and carving out new niche markets. Since the P2A course includes such a wide variety of terrain it was challenging task choosing the right tool for the job. I suppose that's part of the fun when it comes to a race like this. Depending on your riding background and style there could be a wide variety of bikes that are appropriate for this race. The way I saw it, I had three options at my disposal:
Cyclocross (CX) bike: Often described as the love child between a road bike and a mountain bike. This has a geometry similar to a modern road bike with a rigid frame but has the clearance to allow for wider tires and the accumulation of mud and debris. This bike would perform well on road and rail trail sections but would suffer in mud and wet ground.
Mountain Bike: This bike provides front suspension and a fatter tire which allows you to ride smoothly over rough sections and carry speed. The fatter tire also will float better in soft or muddy conditions. The geometry does not readily put your body in an aerodynamic position for the long stretches of riding. A full suspension mountain bike is a bit 'too much bike' for this type of race.
Tour Bike: If the cyclocross bike was born from a road bike and mountain bike, this would be it's less popular, big brother. These bikes are fully rigid providing great pedalling efficiency  and they rely on plus size (extra wide) tire to negotiate rough terrain. The frames are designed to carry a lot of weight for touring and are heavier than CX bikes because of this.
Fat Bikes were not allowed for the 70 km course but were allowed for the 40 km.
In the end, I decided to go with Option 2.
I settled on my mountain bike for few additional reasons worth mentioning. This bike uses a large 29 inch wheel and the larger circumference provides greater pedalling efficiency than a 27.5″ or 26″ wheel. The front suspension of this bike also has a lock out mechanism allowing me to toggle between speed demon and nimble mountain goat. Race day I also pumped up my front/rear tyres to 45/40 PSI to reduce the overall rolling friction. I figured if conditions were really sloppy I can always let air out, but it's a lot harder to put it back in!
Turns out, 80% of the bikes I saw on race day were CX bikes, but after racing the course I remain steadfast in my opinion. Unless you're really fighting for a podium finish or a personal best, this race can be completed on wide variety of bikes. Ride according to your style, experience, and comfort. Seventy kilometers is a long way to pedal on an uncomfortable bike.
The Course
Hopefully if you've read this far you at least know where the race begins and ends. Here is what Strava produced after the race.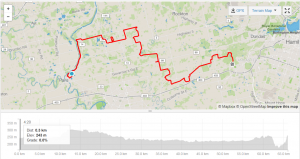 The course began on an old rail trail following the Grand River north for 10 km. After the rail section the course headed east gaining approximately 50 m in elevation over 2 km. The rest of the race was downhill toward Lake Ontario and generally followed asphalt and gravel roads, with only a few additional trail sections each under 4 km. P2A set up an aid station at kilometer 40 stocked with bananas, gels, and water. This is also where the 70km contestants joined the 40 km racers. At kilometer 20 and 40 you'll see little loops on the Strava map. These sections were on private farms and followed the periphery of the fields. A big special thank you to those landowners who let us race on their land this year!
The only other major features were the infamous Power Line Mudslide and Martin's Road Climb at the end of the race. The mudslide, as the name suggests, is a steep decent down a saturated slope that really tests your bike handling and balance. Even during the dry seasons, I was told that the event coordinators bring in a water truck to house down the slope. The Martin's Road climb is the last hurdle of the race with the finish located at the top. This slope peaks at a gruelling 18% incline and is like rubbing salt in a wound after 70 km.
Race Day
I arrived at the Ancaster Community Centre well ahead time to do my bike checks and to ensure I had enough time for registration. I found the registration process very efficient and well organized. I spotted Patrick, another Team Running Free athlete, which is always encouraging! Be sure to click here to check out his thoughts on the race! After registration, I loaded my bike into a van and hopped on the bus to be transported to the Paris start line!
Paris was miserable.
April 30 was not exactly a nice day with a morning forecast of 3 degrees, intermittent showers, and wind speeds of 45 km/h. Buses dropped off athletes at 8:00 am with the first wave of athletes at 10:00 am. Many of the athletes, myself included, tried to hide in the wind shadow of the public washrooms with limited success. This was by far the most difficult and mentally taxing part of the day. Nothing was formally set up by the P2A organizers other than the start line and race corrals. Considering the time of year and the stand-by time, I would have liked to see more of an effort from P2A.
Race waves started right on time and everyone was happy to be out moving their legs! If you were in Wave 4 like me, you were also treated with the comical sight of lost water bottles. In the first kilometer of the race scores of water bottles were knocked off the bikes and were scattered across the road! My guess is the early race congestion forced athletes into cycling over pot holes and any rigid frames would land with a thud dislodging peoples bottles! Luckily, I opted to race with a hydration pack to carry my water and bike tools so this was never an issue.
The race remained congested for all of the Grand River rail bed but the pack started to spread out after that. My choice of bike paid off at this point as the bend east was an uphill battle in sand and cobbles. Most of the race we were exposed to an unrelenting north east wind. There were a few areas where the course dipped into the forest providing shelter however, the forest had it's own challenges with mud and flooded stretches. The mountain bike choice helped again as I was able to crash through most of these sloppy sections! I'd say most people had to get off and walk their bike, which lead to choke points and bottle necks, limiting the edge of a mountain bike. At one point in the race, P2A provided power washers to clean off the bikes. A quick water blast helped keep the drive train clean and in working order! Shimano technicians were also at the wash station to lend a hand for any technical issues. The entire course was very well marked with police officers at all road intersections directing traffic. I eventually made it to the mudslide which I took at speed and managed to make it down in one go! I wish the same could be said for final climb but I had to touch down once to stretch out a seized calf. Ouch! The finish line was high energy and packed with spectators and photographers. Finish line celebrations were held in the Community Centre where they had a BBQ, beer, and live music. For an extra $5.00, you could have your bike cleaned, with all proceeds going to a local youth cycling group.
Overall, this was an an really fun race that I would recommend to anyone looking for fast paced, endurance style ride. The race had very few technical aspects and I truly believe it can be completed on a variety of bikes making this race widely accessible. My advice to anyone participating is to squeeze in as much riding time as possible. An April race doesn't leave a lot of time for training rides prior to race day. If you find it hard spinning on a trainer and staying motivated over the winter, sign up for this race and make it a pre-season benchmark!