One Bag to Rule Them All – Locally and Internationally
Triathlons require gear.
Two pair of shoes (cycling & running)… Wetsuit… Helmet… Tri kit… Nutrition… Towels… Bottles… Etc…etc…
I have always found trying to pack everything for a triathlon race to be a bit of a hassle.  Compared to a running race, there just seems to be a ton of stuff.  And trying to get it all into a bag where it's logically organized is another task altogether.
The Zoot Ultra Tri Bag 2.0 has become my stress reliever.
http://www.runningfree.com/products/Zoot-Ultra-Tri-Bag-20-p42380/?pstart=1
It has as many pockets as you need and tons of space without feeling like a hockey bag.
As described on the Running Free website:
• Molded helmet protective compartment
• Removable sealed wet/dirty laundry/wetsuit compartment
• NEW – 2 exterior water bottle pockets
• Exterior small item zippered pocket for valuables
• Fleece lined top pocket for sunglasses/mp3 player
• Divided mesh interior storage pockets for organization
• NEW – Reflective detailing for visibility in low light conditions
What I love is that no matter how much gear I have, it fits.
When packing for a race, I initially pack gear to cover all possible weather, a hot kit, cold kit, wet kit, dry kit….  And then the night before the race, I make my best guess and pare it down to what I am actually going to use.
Using this bag to its fullest, she keeps me organized! I can separate my swim stuff in one pocket, cycling gear in another pocket and running kit in another pocket.  So on the morning of the race, when I get to transition, it's an easy unpack.  One less thing to worry about.
Tidying up after the race is just as easy.  There is even a wet bag that can keep the wetsuit and dirty kit separated from everything else.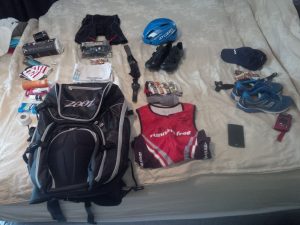 (wetsuit not  shown)
Not only is it good for local racing, it is a prime pack for international travel and was a breeze using it as a carry-on to get through several airports and customs inspections.  The bag opens like a luggage bag.  It has a zipper that encompasses more than ¾ of the bag and it just folds open.  It also has wide, comfortable shoulder straps and a padded hip belt… (You could use it for hiking if you really wanted!)
This year was the first time I traveled on a plane to do a destination triathlon, there were only two things I worried about arriving:  My bike, which I couldn't carry-on & my triathlon kit, which could not be replaced.  Can you imagine trying to race in brand new cycling and running shoes?  (I even packed a spare set of pedals in my tri bag, in case the bike went wayward.  I figured I could source a bike and make due as long as I had pedals that matched my cleats.)
And lessons learned at the airports:
Toronto Pearson Airport – Security weren't sure what a CO2 inflator was.  (No cartridges to demonstrate though).  They let it through.  They did not however approve of my aerosol sunscreen as it was a 114ml can… which exceeds the 100ml limit.  It found its way into the garbage. L  They also made sure to measure my mini multi-tool to make sure none of the Allen keys exceeded the length restrictions.
Hong Kong Airport – They searched hard for some metal sticks in the bag.    OH!  Those medal things that stick out of the bicycle tubes… called stems… Apparently the long-ish metal stems raised some serious eyebrows and had to be located and inspected before they'd allow me through.  They also checked the multi-tool, just for good measure.
But as always, smile when they ask to see the contents.
Whether it is used locally or international, it is a great bag.  It is a big bag, that doesn't feel like a big bag.  And in the off-season, it's a great storage bag to keep everything together in one place!
-Patrick