I first heard about this company at our annual team meeting, and was intrigued. I loved their style, and wanted to try out their gear for myself. Boy am I glad I did!
First of all, a little back story. What or who is Kari Traa and why haven't you heard of it? Well, Kari Traa is a Norwegian Olympic Freestyle skier, and creator of the fastest growing clothing brand in Europe. Their clothes are hip, colourful, and great for active women.
I purchased the Louise shorts (in turquoise) and Marianne tights (also in turquoise). I was told that Kari Traa is known for their bras- unfortunately they were out of my size in store at the time, so shorts and tights are what I bought. To be honest- I had a hard time deciding what to get because I liked all of their gear!
Let's start with the shorts. I run a lot, and am picky with my gear. I LOVED there shorts. They were a good length (not too long/ not too short), the colour is fun and fabulous, there is a pocket in the back (big enough for keys, credit card etc), and the detailing is really slimming (need I say more??). There is a plastic-like (not exactly sure what the material is) band around the bottom of the legs so the spandex doesn't creep up your butt. Genius! There is also reflective detailing which helps you to be seen when out on the road. The only downfall of these shorts is the colour of them (teal) doesn't exactly hide your butt sweat…. Ya I just said that. However, this is a really minor point in my books and I love these shorts so much I don't really care who can see that I'm sweating my butt off…;)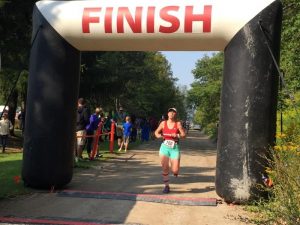 The tights. Again- the cut and detailing is really slimming. Love it. The colours are ones that I wouldn't think to put together normally (grey, teal and pink), but the combo rocks. The tights are really comfy, have a comfy band on the waist and lots of reflective details for your early/ late runs. The tights are great for running, hiking, yoga- whatever you fancy. One thing that does bug me about these pants is there is NO pocket. SERIOUSLY. Not even one for a key. This bugs me more than I can convey. If there was a spot for a key these would be perfect, so Kari Traa- make it happen!
Would I recommend these items to a friend? I have, and I will again.
I hope you enjoy this clothing line as much as I do. Let me know what you think!