Let's start with the visual appeal. I love the look of this shoe. I am usually all for pink anyway, so having hot pink in the shoe already won me over. But it just looks very cool with the blue-pink-black combination. We are girls/ladies after all and the look is just as important as the functionality. And these shoes look fast.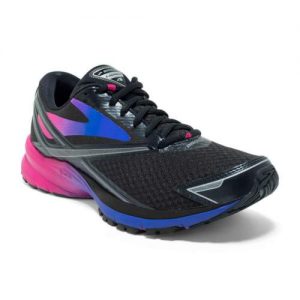 The Brooks Launch 4 is very different from what I am used to. I usually wear super-cushioned shoes. I got this one for speed work on the track. It surprised me in a positive way. For most of the workout I don't even notice the shoes, which is a great thing. It is definitely easier to pick up the speed in them than in a heavier, bulkier pair.
The upper is a combination of the previous versions of the Launch series, having spacer mesh, fused and stitched-on synthetic. The midsole is the continuation of the earlier versions, a single-density BioMogo DNA foam.
It also has a fancy outsole: which is hard carbon rubber under the heel and softer blown rubber under the forefoot.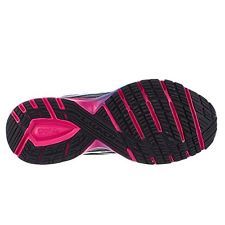 It makes for a firm ride, which is fine for short, fast workouts. It also has an excellent grip. It is not typically considered a race-day shoe, but more of a fast training shoe with a little cushion. Very versatile and durable.
The fit is great, snug but very comfortable. The only negative thing that I could mention is that there is only one width available, but it was not an issue for me.
Also worth noting is the great price point of these shoes as they are priced lower than most other daily trainers and perform very well. All in all, my experience is that the Brooks Launch 4 works very well in a rotation for speed work.