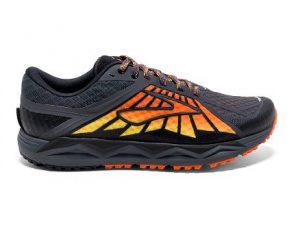 My go to shoes for 2015-2016 has been the Hoka One One line of shoes, until I developed massive blisters on the inside of my feet halfway through Haliburton 100 mile race.
The narrow toe box of the Hokas were causing me issues, even with my trusty Injinji Socks! I needed a change, something with lots of cushioning and a wider toe box for my ultra running.
After much research and reading reviews I decided to give the Brooks Caldera a try.  Since I have baby feet (size 7.5) I always struggle finding shoes in my size. Luckily Jodi from Running Free Orangeville can usually place an order and it's received very quickly.
For a trail shoe with lots of cushioning, they are fairly light.
Size 7.5 weighs in at 9.4 oz / 266.5 g
Specs from Brooks web site:
BIOMOGO DNA MIDSOLE CUSHIONING dynamically adapts to every step and stride
PROTECTIVE MIDSOLE midsole geometry features built-in protection and stability over trails
INTEGRATED GAITER TAB easily secures gaiters to shoes
DOUBLE-MESH UPPERprovides protection and stretches for a smooth, seamless feel
RUGGED OUTSOLE provides great traction on wet surfaces and tricky terrain
First test was a section of the Bruce Trail at Hilton Falls. Initial thoughts on the packed dirt single track was love at first run. However the trail became very rocky with several exposed roots. My feet started to turn inwards (major pronation) I already have issues with my feet pronating, so these are not good for technical trails.
I did not want to give up on these beauties so I gave them another ride at Mono Cliffs park. This is where the awesome Chase the Coyote trail race is held each September. The trail system here is mostly hard packed top soil, with some rocky, rooty technical sections thrown in to keep you honest. I was very pleased with this run. I was able to run without pronating anymore than I normally do. I kept training on hard packed surfaces in preparation for my up coming 100 mile race in Indiana.
I knew the course for Indiana was not technical and the Caldera's would be perfect for this race. The race consisted of five, twenty mile loops with a thirty hour time limit. During the five years that this race has been going on the conditions have been known to get real muddy when it rains. Especially considering 400 people completing the same loop during there 50 mile, 100 k and 100 mile races. Low and behold it started to rain near the end of my second loop. This is where the Calderas failed me again! Because of the tread pattern with low lugs it was like I had skates on. There was no traction at all. I had to switch to Speedcross shoes for the last 40 miles.
Now my next complaints about the shoes is heat and durability. These shoes do not breath very well and your feet become extremely hot. I think it is because of the thick upper. I have run approximately 370km on these shoes and they are already showing signs of wear on the inside and outside of the shoe where it bends at the mid foot.
My final thoughts about the Calderas: These shoes are great if you're looking for an alternative to the Hoka One One line of shoes. They have a wide toe box allowing for toe splay, plenty of cushioning, built in gator Velcro tab and  a spot to tuck in your tied laces if you desire.
Would I recommend them? Well I have three pair (2 size 7.5 & 1 size 8 for swollen feet) that should be your answer 😉
Happy Trails and Happy Running