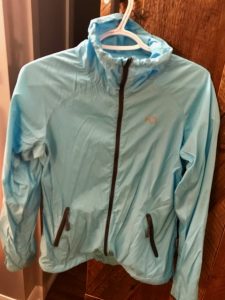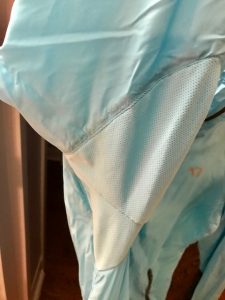 I was the proud winner of one of these awesome jackets!  First of all, I love everything Kari Traa…for the way the clothing fits various shapes and sizes of females and secondly for the wonderful colors that they put into their pieces.  When I wear this line of clothing, I swear I run better!!
I would highly recommend everybody getting one of these because when I say it's lightweight…I really mean it!  It is a type of material that doesn't really wrinkle either and is great for travelling because it folds up into almost nothing!
There is a drawstring at the back of the neck which is very convenient to pull on while in motion as well as two around the waist.  The back of the jacket dips a bit lower for great wind protection on the butt and hides it if that's important to you (like it is to me!!)  Two side pockets with zippers and two inner no zipper pockets make this jacket great for holding everything you need!
Under the arms, there is a meshy type of fabric so the pits breath which is genius!
I really have nothing bad to say about this jacket and I'm sure it will continue to be one of my favorite running gear pieces as well as casual wear on wet/windy days!