In the Spring I signed up for a brand new trail running series hosted by Hardwood Ski and Bike near Barrie. The series was offered at a great price point, ($120 for the series / $20 individual race and $30 day of registration). Seven races took place, one each month between May-November. Each race offered two distances and series points could be accumulated. To qualify for the series you were required to run a minimum of 4 of the 7 races and complete both a long and short distance.
I would have loved to compete in all seven races but due to various clashes I could only race on four of the dates. So I ran 2 x 10K, 1 x 21K and 1 x 5K. Each race was on a different course, some more challenging than others. Be warned some of the trails are bike trails; so single track, lots of roots and ramps, technical aspects and steep inclines. Other parts of the trail are wider and less challenging, although each race started with a steady climb! All the courses offered the natural beauty of the forest and on the last race, we got to experience the beauty of the snow too. The well packed trails were so pretty I went back out after the race to run the course again, just so I could take it all in.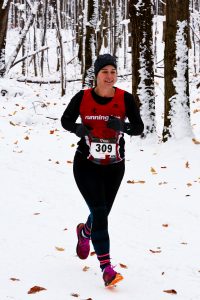 Each course was well marked and the longer courses had mid point aid stations as well as water and bananas at the finish. The long course (21K) was three laps of a 7K course. I found this one pretty tough going, the course was technical, it was very hot and I had to pass the finish line twice before I could actually finish! I was rewarded for my efforts with a third place in my age group so all the sweat was worth it!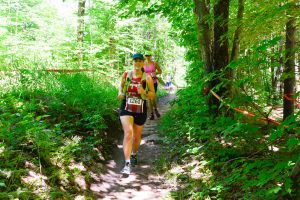 This is a low cost series, 7 races for not much more that the cost of one bigger event, so don't expect shiny hard wear or race shirts. However, if you are lucky enough to place in your age group you receive a very cool wooden medal. In addition, each race had a different sponsor, with great prize draws, plus a pair of Salomon trail shoes up for grabs. On top of this the race directors, the volunteers and the other participants were all super friendly and supportive.
The location itself offers plenty for your family and friends to do if you drag them along with you. A kid's race and kids supporter group for the younger ones and a café on site, inside toilets and wait area and a well-stocked shop. You could even make a day of it and bring your bikes and ride the trails afterwards.
I was lucky enough to be the age group series winner and won free entry into the 2018 series, but even if I hadn't, I would for sure sign up again. I really hope this series goes from strength to strength and that I see more RF friends there next year too!