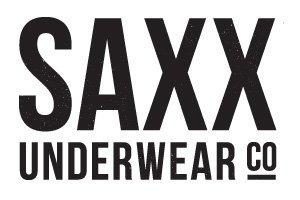 Winter is on our doorstep which means one of two things: we either go the way of the grizzly bear and hibernate for few months or we bustout the base layers and continue to enjoy the outdoors. Saxx Underwear Co. has been around for about 10 years now and boosts superior comfort due to their BallPark Pouch design, panelled construction, and reverse seams in all of their products. Currently they've given us a three products for  tights, one being the Kinetic. The Kinetic is described as a semi-compression tight for athletes who do high-output activities and features 360 degree stretching and quick-dry jersey fabric.
Aesthetics – 4 / 5
When it comes to men's underwear there isn't a whole lot of colour options. You pretty much have black, white, and the various grey scales in between. Saxx has thrown this tradition out the window and proudly designs underwear with all sorts of colours, patterns, and graphics. I was very happy to finally break my wardrobe monotony and grab a pair of royal blue rights with red seams. Looking on their website though it seems that the Kinetic only comes in various  solid colours. I would like to see them put out more patterns similar to their line of briefs. Saxx is still way ahead of most competitors though and that earns them a 4/5.
 Comfort & Fit – 4.5 / 5
These are easily my Go-To pair of tights for every activity. The material is very comfortable and it fits like a second skin. With other tights I usually have to wear athletic underwear beneath them for chaffing and control, but with the BallPark Pouch it's not needed. Its actually slightly uncomfortable to wear both. If you are planning to wear this material as your only outer lair it is probably suitable for temperatures between -5 and 15 degrees Celsius making it great for autumn and spring weather. Above 15 degrees they begin to  really get hot, and below -5 degrees I would use them in tandem with light pants to block the wind. When they are wet they loose the heat-retaining properties but they are still very comfortable which is important. The fitting is true to size  and clearly labelled on the packaging. It's pretty forgiving due to the stretchy nature of the material. The Kinetic is also advertised as  being 'semi-compression' which I find to be a red herring. Honestly, I haven't experienced any of the compression benefits from these tights so don't buy them for compression related reasons. I think this was a marketing scheme to hop on a buzz-word bandwagon and boost sales.
Durability – 3 / 5 (maybe?)
I've only owned the Kinetics for a 6 months and seeing as they are not suited for the summer I haven't had many months to use them. I'm starting to get little pulls in the material from picking out burrs, thorns, and other brush material. If you are planning on using the Kinetics for adventure racing or orienteering  you will probably burn through them in a few seasons. This doesn't apply to most runners though and I think for the average athlete these will hold up much longer. I've washed my pair in a variety of ways and put them through every dryer setting known to man and there's nothing earth-shattering to report. The Kinetics perform on average with any other pair of tights that I own.
Why, Try, or Buy?
The Kinetics run  around $60 CAD which places it on solidly on  average with many men's tights. For comparison, Mark's Wind River brand retails on the lower end of $30 -$50, MEC in-house brand runs $65, and New Balance is between $95 and $110. If you are interested in true compression gear the price point is anywhere in the realm of $100 to $300.
Is this product a Why, Try, or Buy though? If you plan to run during the shoulder season and are in the market for a pair of tights I'd say the Saxx Kinetic tights are a worthwhile buy. The Kinetic is everything a good pair of tights should be with some extra flair and at a reasonable price point. Don't be grizzly bear and hibernate this winter; get out there and run.