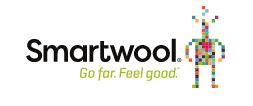 I had the privilege of testing some Smartwool socks.  Other than shoes, sock can make or break a running regime and buying comfy socks is fun.
The key to Smartwool socks is in the name.  They are manufactured with Merino wool.  Merino wool is known by active types as a wonderful material that breaths and wears very well.
It's very soft and doesn't have the itchiness commonly associated with wool.  Itchy feet is nice analogy denoting a person struck with wanderlust but doesn't bode well for clothing.
The other concern I had was around wool's warming attributes.  It seems counterintuitive to wrap your feet in wool and run in above freezing temperatures.  My feet stay pretty warm even in the winter.
I have routinely run with standard running socks and standard shoes in temperatures around -15 degrees and never felt I needed insulation.  Don't get me wrong if you stop, you freeze, but I am speaking strictly running.  I'll address this concern with each.
Smartwool Technology
There is no better way to describe this than their own info graphics.  More info here:  Smartwool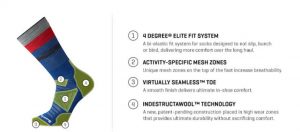 My experience on all of the test socks is that they fit really well.  I found the design as in the above provides a nice tight arch support and seamless fit in all areas.   These socks seem to hug you.  Out of the wash and regular drying cycles they sometimes seemed a little shriveled up but after putting them on they fit very well.
My first experience with Smartwool was with a pair I had received as swag from the inaugural North Face Endurance Challenge in Blue Mountain Collingwood in 2014.  They were good socks and I still wear them.  They have been worn pretty regularly in my running sock rotation and have held up well with no signs of issue for 3 years.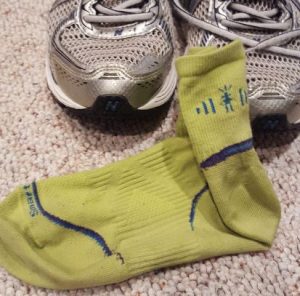 These are thinly made and I have run with them in all sorts of stinking heat and found them to breathe really well and not seem too hot.
The next pair is the PHD Run Light Mini.  These are a little thicker and provide a bit of cushion to my feel.  They have felt a bit warm when putting them on for a run on a hot day but never bothered me while I was out.
The thicker portions of the socks are above the ankle, heel, bottom of the foot and toe area.  The middle vented section seems thinner and still breathable.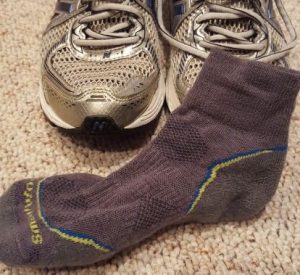 These are the 'mini' height and provide a bit of ankle coverage.  I choose this height for trail running as I often find I scrape just above my ankles with my other foot when hopping over small logs or dodging squirrels and these socks provide protection.  Also it's kind of thumbing your nose to the "No Show" sock crowd.  Shorts and ankle socks … don't care.
I would recommend these if you're locking for added cushioning or perhaps a touch of warmth on a colder day.
The last pair is the PHD Run Ultra Light Mini.  These are my favourite socks of all time right now.  I wear these running, eating snacks and playing pinball.  They are super thin and feel really light on my feet.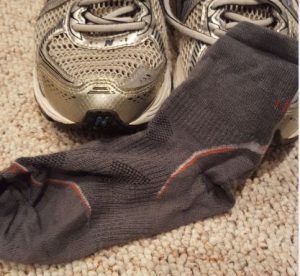 These 'ultra light' thickness socks appeal to me best.  I have found them an excellent companion running in year-round temperatures.  They don't provide the extra cushion the other socks do but I don't look to my socks for this and feel the tightness to my foot is better.
Overall I would recommend some experimentation as this brand of socks offers options for all needs.  They are really well made, have shown to be durable and perform well.  They could make you all the rage at the next sock-hop.