The Sulphur Springs Trail Run is a trail running race hosted annually by the Burlington Runners the last weekend of May. All race events take place on a 20K loop consisting of approximately 97% trails and 3% roads within the Dundas Valley Conservation Area in Ancaster Ontario. The race starts and ends just north of the Ancaster Community Centre on Martin Road. This race offers distances from 10 k to 100 miles and was part of the 2017 OUTRace series.
In 2017 a special version of the race was offered: the 200 miler. In kilometers that is 320. It is 16 loops of the course and cut-off time to finish for a medal was 3 days. (!!) This is insane and hard-core!!
So of course I'm in. To qualify you had to have done a difficult 100 miler (I used Haliburton) and another 24 hours+ endurance event (I used Wilderness Traverse).
As is custom, I self-declared on social media I was in for this race and then training began for six months. For a calculation from Jan 1 to May 15, 2017, I spent about 180hrs running, 17hrs cycling, 10hrs on aerobic workouts and another 4hr of time doing weights. In that timespan there were some 50k trail races and some run-orienteering racing. I picked some snowshoe orienteering events to start training in earnest. March had no racing and just routine running. April had a stair climbing challenge, another adventure race and the first Outrace ultra, Pick your Poison 50k. Moving into May I did the GoodLife Half and the next Outrace ultra the Seaton Soaker 50k. The last thing before Sulphur was a fun Storm the Trent adventure race with my daughter.
This race was vastly different from what generally happens in Ontario trail running because of the duration and logistics involved. The race directors had to go way beyond normal to ensure a safe and successful event was put on. As my race plan and support was assembled in the weeks leading up to May 25 it was clear this would be a race of epic proportions; the plan tentatively had me finishing in about 67-68 hours, with a whole bunch of what-ifs scenarios. My crew chief would be controlling all the moving pieces as the race progressed in Friday, Saturday and ultimately Sunday. I also had the support from the Burly Trail Runners and other friends crewing.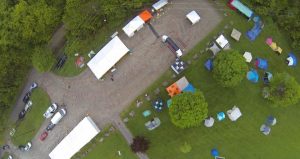 As said above this race was 16 loops, so reference is made to 'loop' frequently.
28 runners started the 200 miler and are a very special group.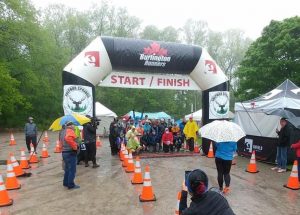 The first 12 hours of the race was completely wet and I was soaked. I did the first four loops in hybrid running sandals which I think helped my feet. People watching and helping with the race at that point were great and I think understood the huge task of trail running in crummy weather.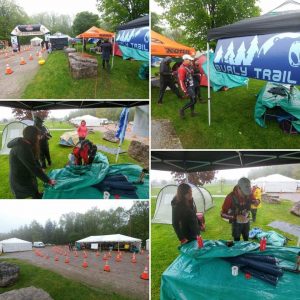 After four loops I completely changed with new shoes and had a short nap. I did loop 5 without poles, but loop 6 I grabbed the poles for good and started using them for the remainder of the race. The poles were great for powering up climbs and but not as useful for downhills on this particular course.
On loop 7 the list of pacers started to provide relief and someone to talk too. Keep in mind not every racer used pacers and were going it alone still at this point. It was just a strategy I wanted to use to stay motivated and focused.
Loop 8 ended up producing one of the most iconic photos of the race i think because it signified the struggle faced by all the ultra-racers. And used by Canadian Running Magazine online. This photo was taken on the western side of the course on the trail that leads into the Headwaters loop.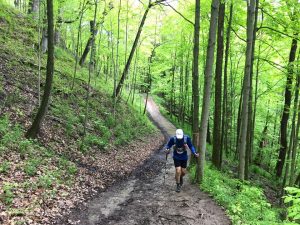 Swiss chalet and foot massage. All real here. Amazing thing happen in a race on this magnitude and werid food cravings!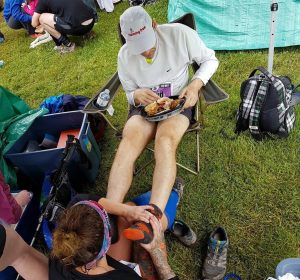 Now into Friday evening more pacers arrived to handle loop 9 and loop 10. In between these loops was a planned 3 hour sleep which was not great sleep. I started loop 10 before the 100 milers early Saturday morning. That a strategy done on purpose to be on course somewhere before lots of fresh runners came running though.
On the last day and around the 150 mile point both my leg shins were in constant pain. This was most likely from all the stress of going downhill on specific leg muscles. The only viable option here was use some muscle relaxing cream and take some painkiller pills. I always avoid take painkiller meds during a race but this time was different and the crew just urged me to do so. Otherwise, I would have likely quit and stopped the race.
Loop 11, 12 and 13 were paced by a different person. All were given instructions to try to keep my pace up on Saturday. By the end of loop 12 it was clear I was not moving fast enough. I needed to do 4h and 15m loops now to make it for under 3 days.
Going into Saturday night another pacer came in to get me through loop 14 and 15 and pushed me as much as possible throughout the night. It worked. I now had a decent buffer to complete the final loop.
The race directors allowed for multiple pacers on loop 16. The last loop proved to be the hardest ever in my racing career to date with sleep deprivation and exhaustion setting in, it was a struggle to even walk straight.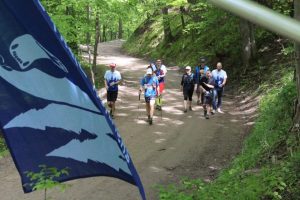 I think relief was probably the best word to describe the finish. This is the finish line photo.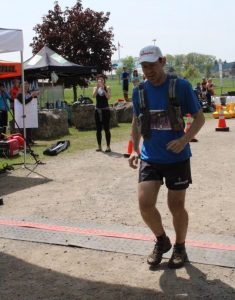 This is the finish line video. https://www.facebook.com/loriference/videos/10154915098833515/
One of the racers made this lap by lap finishing time chart and it shows my consistency near the end of the race from lap 12 to lap 15 made all the difference. I put up about 4 hour for one 20k loop which I have to admit is pretty impressive after 2 days!

One of the neat benefits of doing this crazy race was how people have approached me since and told me how I have inspired them to try a harder and longer race!
Until the next crazy adventure. The final 200 miler photo on us in the Canadian Running Magazine is such a classic. The elation of all the finishers and me in the centre sitting on a chair (because I could not stand on my own) looking like a truck ran me over and trying to smile.
Canadian Running magazine Sulphur Springs 200 miler race article
https://runningmagazine.ca/2017-sulphur-springs-trail-race/
But this is why I did it.. for a cool buckle. Only 14 people on Earth have this piece of hardware.