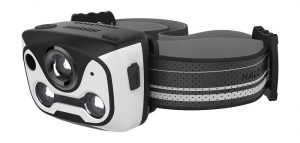 Disclosure: This headlight was bought out of my own pocket and did not alter my influence for this review
​The
Halo Fire by Nathan
outdoor products is their flagship headlamp especially with runners in mind. It comes with 3 LED lights for various lighting modes. Their
product page
also claims to have over 280 lumens on their brightest mode – it is bright for sure but at the expense of shorter usage time.
Key Features
– 5 lighting modes (from dim to max brightness, strobe mode)
– RunWave technology for convenience and less fidgeting during the run
– Reflective materials on the strap
– Product guarantee backed by Nathan –> excellent customer service
Real Life Application
I received my Nathan Halo Fire as a direct replacement from my personally bought
Nathan Nebula Fire
. The outgoing headlamp stopped charging through the USB charger and was effectively useless if it cannot charge.  I reached out to
Nathan's Facebook page
and they were quick to ship me the replacement (which became the very Halo Fire that I have been using even to this very day) upon proof of original purchase of my defective headlamp. I am pleasantly surprised by their willingness to stand behind the products that they sell and doing the right things to delight purchasers like me. However, I have since been quite wary of all electronic devices that require USB charging – including this replacement piece.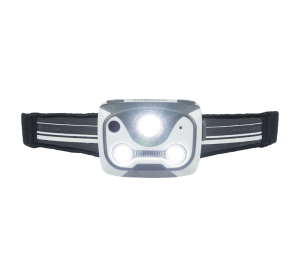 It's now one complete year and onwards since I have been using the Halo Fire. I am quite glad that the charging still works as do with the light emissions (with its various lighting modes). I put the headlamp right into the USB charger each time I complete my night runs – no exceptions. I bank on the fact that the lithium-ion battery will hold full charge each time I plugged it into the charger from one outdoor run to another. There are light indicators during the charging process to indicate whether it is charging or charge complete. If the light indicator is in red, then it is charging. If the indicator is green, then the charge is complete. Based on experience, if there is no light indicator or a brief red light then blank, there are reasons for concern.
The Halo Fire shines brightly when it matters most – the outdoors. I appreciate the Auto-Strobe function when nights are dark and evening commute traffic are at high volumes. It comes in handy especially when running where one side of the street is strictly residential grounds whereas the other side of the streets are untampered (yet) farm lands and corn fields. In terms of durability, it has endured quite well on Canadian winters, from the frigid minus twenty somethings temperatures to those balmy evenings at the peak of summer. It can take on light moisture with its IPX4 water resistant rating. That being said, I do not recommend tackling those torrential downpour weather though.
In conclusion, the Nathan Halo Fire is well worth your return on investment if you do serious amounts of running in the nighttime or simply being a nocturnal adventure thrillseeker.
Original post on my blog > https://goo.gl/o4NeBf