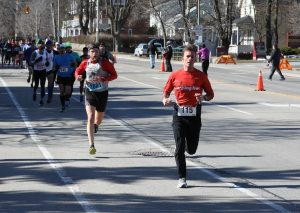 The Chilly Half Marathon is a staple for runner's all across the board, it is the perfect late Winter race where many attempt to crack their PB or test their fitness as they "spring" into the next season. This year as been no different as the event lived up to its expectations: it was cold (no snow thankfully), windy, and many great times were to be had.
I've done the Chilly Half in 2015, the Frosty 5k in 2017, I was originally slated to do the 5k but a last second decision during race week I decided to upgrade to the Half and use it as a springboard for my upcoming Marathon at the end of April in Waterloo. There are a few things to discuss about this race, and I will keep it simple and easy!
Race kit pickup: This was done at the Mercedes-Benz in Burlington just on 441- North Service Road, and was available three days from Thursday to Saturday. Parking might be a lot of fun but pick up is well organized, the volunteers are helpful and since my father in-law did me a favour to pick up my bib, he had no troubles getting me upgraded to the Half. Kudos to the volunteers, they work hard!
Race Day (Parking). If you do not have a pre stay at a hotel, or any place close by you can stay at, finding parking on the day of this event can be tricky so do yourself a favour and leave early for ample time to find parking as it can be a bit of a challenge. If you arrive early but don't want to feel stranded in the cold, no problem, there are many places to stay warm including City Hall which is located at the start on Brant Street.
Start Line (Half Marathon). The start line is on Brant Street just in front of City Hall, the volunteers who organize this do an amazing job of setting up the corrals, closing the roads from local traffic, emceeing duties, to opening ceremonies. You feel like the city is welcoming you as many of the spectators go by with signs and chants, taking videos and pictures while offering words of encouragement. I find that the starting area gives people ample space to line up as the corrals are appropriately placed from the Elite Athletes at the front moving down to Sub 1:30 and down to over 2+ hours, so anybody can find their appropriate spot. At the starting line with seconds to go, you can feel the energy as everybody who worked through the tough winter is ready to put themselves to the test and give it all they got, it could take a few minutes for the thousands of runners just to cross the start line after the opening horn.
Race Course. This race is a very simple, out and back course that boasts a flat route (minor rollers) that means you will be pounding the same muscles for 21.1k! Runner's start on Brant Street and take a sharp right onto Lakeshore where you will first complete a 3k loop that works itself back onto Lakeshore now heading the opposite direction. The course is very well Marshalled along the way with plenty of aid stations (8 in total I believe), with a nice view of the Lake and cheering spectators what more could you ask for! The second turn around point is at the 13km mark where runner's will head back towards Brant Street and finish where they started! The simplicity of and out back race makes it easier for family/friends to wait around without much hassle which is nice! You will finish with a giant crowd and maybe have a chance to slam some high fives with the giant pepper (guy in a costume every year) how cool is that? I should say, the medal is cool too, looks just like the guy!
My experience: I've done this race before, back in 2015 where it was my Second Half and PB race at the time. This year I was not planning on doing the 21.1k but I decided to upgrade in the last week just to test myself and see what I need to work on for my upcoming Marathon in April. At the start of the race I went out a little faster than expected but I was feeling strong until after the first few km's where the wind was really strong and made it a bit difficult to hold pace so I decided to race more conservatively and by feel so that I could have the best possible outcome for the day. There were many great athletes competing in this race and it was nice to hold pace with other runner's as they battled the flat route and gusting winds along Lakeshore. The Support from volunteers and spectators were very helpful and that would give any runner the boast they needed to finish. After 13k I knew it was just over 8k to go and treated it like a strong training run! My legs were good for the day, and although I didn't prepare for a Half race I finished strong and was less than a minute shy of my previous PB at the Fast, downhill Mississauga Half! At the finish line you're corralled quickly and greeted by friendly volunteers who medal you and then pamper you with water and snacks. This is a fantastic race that boasts passionate runners who love what they do doubled with a city of volunteers who are happy to make sure you're well taken care of. I made sure to thank all volunteers along the way but unfortunately I did not use my bib ticket for a bowl of chilli that could be used at any of the local restaurants (time restraints). This race I would recommend to anybody from the beginner looking to run their first Half or even 5k for that matter, to the competitive runner's and PB seekers. This is a must for runner's in Ontario.
I was lucky to have my Father in-law take pictures of the course/runners, on running free facebook page I have made a post that includes some pictures of other members that he managed to snap photos of. If you raced the Half you maybe included in those photos, go to the team running free page and look for my post there!
Here are some stats on my Strava account for anybody interested on how my splits/performance went! Thank you!
https://www.strava.com/activities/1436450691