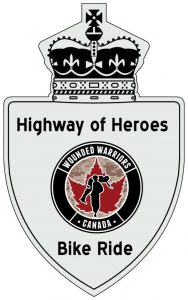 Highway of Heroes Ride 2018
Honour the Fallen, Help the Living
August 25-26, 2018
https://woundedwarriors.ca/hhr18/
For the past 3 years, Wounded Warriors Canada has organized the Highway of Heroes Ride to raise funds to support mental health initiatives for veterans.
In addition to supporting veterans, Wounded Warriors Canada has recently expanded their base to also include first responders. (Ambulance, Fire and Police.)
So really, how hard is it to get behind this cause?
It's not hard.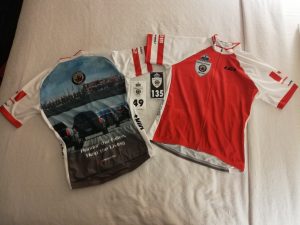 The ride starts in Trenton, Ontario, at the Afghanistan Repatriation Memorial, less than a kilometer away from the runway where our fallen soldiers return to Canada and finishes on day 2 at a ceremony at the Ontario Veterans Memorial at Queens Park.
To start, I'll give you the best highlights.
– riding beside my wife and seeing the determination, not only in her face, but in the faces of every single rider in the group, no matter their age, gender, size, bike….
– meeting Luke, a cheerful man with a leg prosthetic below the knee.
– meeting Tim a charismatic man, with a fused hip and full leg prosthetic.  He did the entire ride with one leg!  (I will never, ever complain about cycling up a hill again!)
– starting day 2 with a great group of fun, fast riders, blasting around my training grounds.  Familiar territory!
– lots of good food, smiles and positive vibes.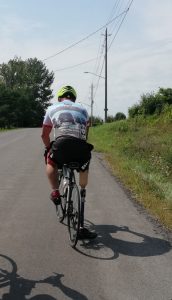 To the event details:
Day 1 starts with an opening ceremony at the Afghanistan Repatriation Memorial that included speeches by some important individuals including the ride director, government officials, and the head of 8-Wing.  The Wing Chaplain says a prayer and then the bugle starts.  Growing up and seeing my grandfathers in Remembrance Day parades, or at the Legion, I admit, I have a hard time getting through the bugle.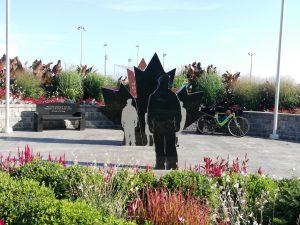 After the ceremony, we gather on the path and then make our way through Trenton as a group.  Once we are outside of Trenton, the riders are free to go their own pace through the rural towns.
Riders with similar paces gravitated towards each other, constantly encouraging and supporting one another.
What was also really great to see was how well supported the event was.  Right from the beginning, every turn had a clear sign, the break stops had great snacks and drinks (and washrooms!).  The organizers even had a few ebikes for individuals who needed a little assistance.
To be honest… The day 1 ride had a *few* hills.  And it was hot.  And sunny.  And it certainly was a test of one's self determination.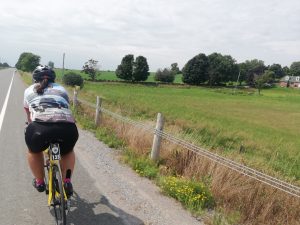 The ride is supported by several SAG vehicles, including VeloFix, (a bike mechanic shop in a van!) and one memorable vehicle with a never-ending, constantly ringing cowbell!
While riding though the countryside was really nice, having a stop at a small-town legion was pretty special.  They had sandwiches, cookies, pickles and most importantly, smiles for us.
While the ride is designed to be tough, it is not intended to be soul-crushing.  There are two distances you can ride, 80km or 120km each day.
For those doing the 80km distance on day 1, their ride ended at the police station in Port Hope, where a great lunch was provided as well.  Individuals doing the 120km distance had their lunch and then continued on to Bowmanville.   In Bowmanville, the riders were police escorted through Bowmanville to the LAV Monument where the closing ceremony for day 1 took place.
It was noted during the closing ceremony that the monument, an LAV overlooks the Highway of Heroes, in silent guard, watching the Highway and those soldiers who took their final travel along it.  Many soldiers considered the LAVs their 2nd home while they were stationed in Afghanistan.  So this stop became even more meaningful.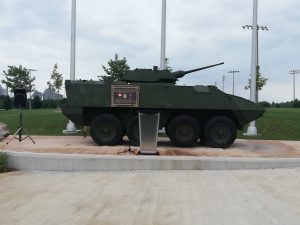 After the closing of day 1, our bikes were loaded (very carefully!) into a truck for storage and we were transported by bus to our hotel in Ajax.  After a hot shower and a short walk from the hotel, dinner was served at the Ajax Convention Centre.
It was nice to be able to sit and chat with people from all over Ontario that you had been riding with.  One individual we sat with was a soldier, another from northern Ontario, even a few of the ride support personnel were at our table.
After dinner, my wife and I took advantage of the hotel hot tub.  I am certain this helped with the healing and recovery and prep for day 2!!   And definitely a suggested activity if you do this ride!
The next morning, a terrific breakfast was served at the hotel and then back onto the buses we were loaded.  We were driven to Whitby, to the Park of Reflection for the opening ceremonies of day 2.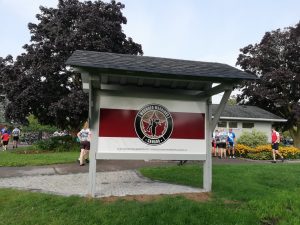 The Park of Reflection is the only monument and park in Canada dedicated to living soldiers.  While most towns have a Cenotaph with the names of soldiers killed in battle inscribed on it, this one is to commemorate the living.  This is a monument to recognize the living and the struggles that they may have upon their return.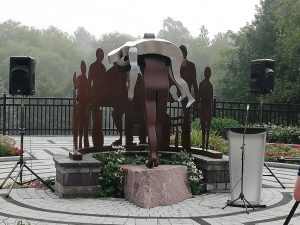 After the morning presentation, those riders doing the 120km distance set off through north Whitby and Oshawa, and those doing the 80km went a more direct route to the Oshawa Regimental Museum.   After the museum checkpoint, the route was the same for both groups.  We made our way down to the waterfront path and along to Ajax.  Then up and around the Toronto Zoo and over to a Legion in Scarborough for another great lunch.
After lunch, we made our way through Scarborough to the beaches then into the downtown core.
The final rally point was at the Moss Park Armories.  Once all riders had arrived, we were police escorted along Queen St, then up University Ave right into Queens Park.
The roads were shut down so we could travel the final stretch together.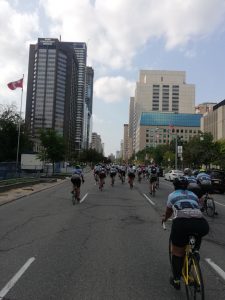 On the grounds at Queen's Park is the Ontario Veterans Memorial, but also just west, across University Ave is the Ontario Police Memorial.  And then just south, is the Ontario Firefighters Memorial.
A bagpipe led a walk to each of these sites, where a brief presentation was made at each of these location.  Upon returning to the Veterans Memorial, the final ceremony took place.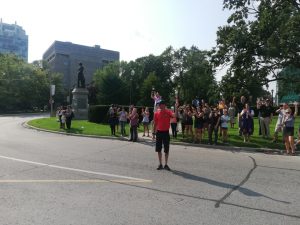 To sum it up:
2 days
+/- 200km
90+ riders
6 monuments touched
4 friends raising $5800 for the cause (over $200,000 raised in total).
2 legions visited
Lots of sweat
Even more smiles
A few tears shed
A sense of a greater purpose achieved
A note of recognition for those I interacted with:
– Steve Topham, race director, made sure everything was covered and every concern addressed.
– Matt Muzzi, Wounded Warriors Ambassador and rider, made sure everyone made it right to the end and was a constant smile the whole way.
– MultiSport Canada and Crew, they did an amazing job with the logistics.  From route  signage to pop-up check points, it was covered.
If you want to pick a cause and event, this is the one.
-Patrick