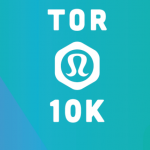 Apologies for the overdue report, but I wanted to share about my experience at the Toronto Waterfront 10km. I loved this race last year and was happy to have the chance to run it for a second time this summer.
The Toronto Waterfront 10km (often referred to as the Lululemon 10km because Lululemon is the main sponsor) has quickly become a pretty popular race in the Toronto region. It is incredibly well organized, the swag is amazing, and the race course is lovely. I'll chat a bit about each of these:
Organization
Honestly, I had no issues at all with this race. I was able to take public transportation to the starting line, and I understand that shuttle buses were offered to others who opted to drive. The corrals were set up so that you weren't squished in with lots of people and so there were fewer bottlenecks than I've seen at other races. There were also some really fun and high energy cheer stations along the course – particularly the people on the spin bikes!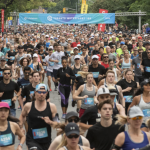 Swag
The swag at this race is the best. Here are a few highlights:
A free special edition black swiftly tech t-shirt with a logo of the race on the arm. Considering how well made Lululemon shirts are, I will be wearing this well past the race weekend
25% off of any Lululemon products in store if you show your bib at specific locations (up to 15 items per bib)
30% off Nuun online-only discount code
$10 off Promo Code for the Scotiabank Toronto Waterfront Marathon
Free Nuun tabs and Sage wellness products at the end of the race
Awesome post-race snacks and party area
Race Route
The route is a shorter version of the Scotiabank Half Marathon route. You do get a few km's by the water, as well as a quick tour of downtown Toronto. It's always fun to run right past the CN Tower and other landmarks. My only complaint about the whole race is that the course is actually a bit longer than 10km. My Garmin – and the devices used by many of the runners around me – clocked it in at around 10.4km. Not a huge deal, but in the heat, that extra 400m was tough.
I completed the run in just over 56 minutes…pretty much meeting my current 10 km PR (despite the heat). At the end of the day, I felt accomplished for completing this race. I already plan on running the Lululemon Waterfront 10K again next year.