I love GU, pretty much all their products. So when I won the lo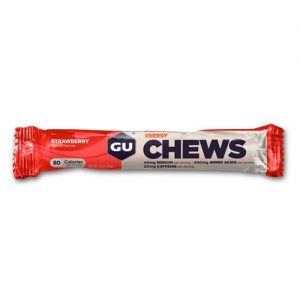 ttery, I didn't spend it only on gels, but I got some other products that I can use in my training and racing. Let's see how they worked out.
GU Chews: I use these on the bike for half-Ironman and Ironman races, because they are still solid food and I can stomach solid food while biking. It is not the case when I run. My favourite is by far the strawberry flavoured chews, I pretty much only eat those, no other flavours. There is also blueberry pomegranate, orange and salted watermelon. I don't like orange flavoured anything, so that was out of the question for me. I don't mind the blueberry pomegranate, but I prefer the strawberry. I must admit that I really didn't like the flavour of the salted watermelon. I will take a serving every 30 mins on the bike.
GU Stroopwafels: These are delicious! But nutritionally, they really don't do anything for me. So as much as I like them, I don't usually use them. I might add them back to my bike nutrition just because of the great taste, but currently I don't use them.
GU Hydration Mix and GU Roctane Ultra Energy Drink: I believe the difference between these two products is the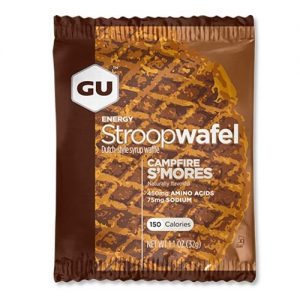 same as between the regular and Roctane gels, so I go for the one that gives me more advantage: the Roctane. This is what I use in my wa
ter bottles on the bike for triathlon races. I found the Lemon Berry flavour too bitter for my liking, so I have the Tropical Fruit Roctane Drink Mix and love it. I'm curious to try the Summit Tea flavour but I couldn't find single-serving trial packets of that one.
GU Recovery Drink Mix: this recovery drink mix completes the training and racing nutrition perfectly. It has the scientifically proven ratio of 3:1 for carbohydrates to protein. When I'm feeling lazy after a workout, but still want to make sure that I can do well the next day, this is what I drink. When I don't feel lazy, I will make a healthy smoothie of spinach, banana, protein powder and the like, but it takes time so many times I will just reach for this drink. I make it in a single cup blender with milk. I prefer the Chocolate Smoothie flavour but I also like the Vanilla Cream, so I have both just to change it up sometimes.