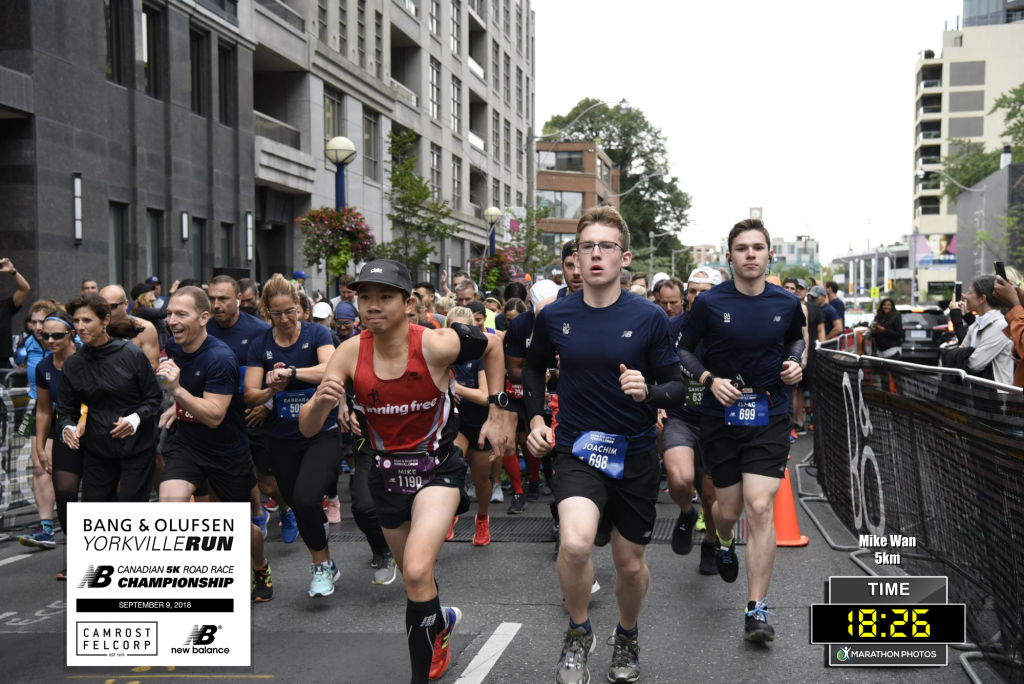 Clinging on. For dear life.
That was the theme for this short but intensive race. Quite honestly, it would have made more sense had I participated in the Canadian 5K Road Race Championship which was held half an hour before this particular B&O Yorkville Run. However…
I had no prior 5K running experience.
This is ironic but true. Over the five years of running, never had I once officially raced in any 5K runs. Ever. I mean over the course of my marathon training, 5K is absolutely achievable but just simply overlooked. That all changed when I made my debut on the crisp early September Sunday morning. My mentally going into this race was pretty much "all hands on deck" and taking the suggestion from my brother to simply "run for your life" 😂
Preparation wise, I took this opportunity as a serious track workout style kind of run, except – well, as fast as I've ever been on a risk-it-all ordeal. Days leading up to this race day, I still did my due diligence to taper, carb up, and get my mind in-tune for this race.
START LINE:
Prior to start, I warmed up at the outdoor 300 metre track where all the vendors are positioned in the inner field. That was when the Canadian 5K Road Race commenced, giving the remainder of the participants a good 20 to 30 minutes of preparation time. I gradually made my way to the start line, which was nearby the Four Seasons. Knowing that I might get myself into a total log jam of people, I deliberately tucked myself at the edge of the front of the line.
My plan for the route? Just gun it and bolt down.
And that was exactly what I did when the horns were sounded off. I was bursting out of the floodgates for the first three kilometres heading southbound on Bay Street. Going downhill at 3:05/km pace for the 1st k, 3:11/km and 3:13/km right after, I think I'm going to wreck this!
TURNAROUND POINT:
Made a right turn to Dundas St West and then turned right to Parliament St heading northbound. But there's a catch – uphill 😅😩😫😭
The remainder mileage was short but unforgiving. I knew I was giving my heart a hard time, especially with the 190s range HR. It was really obvious too as I was pretty much closing my eyes and grimacing my way through to the finish line. I started off at the first member of the pack too. Now I finally experienced what it's like to be the forerunner of a race and gradually having the lead slip away. Definitely going to remember this example and remind myself of "this is what complacency feels like if you don't do enough ground work for anything in life". Harsh but got to swallow the bitter truth pill sometimes.
FINISH LINE & SWAGS:
End up finishing with an official chip time of 18:26 minutes. I actually surprised myself quite a bit, thinking that I would really get a marginal sub 20 minutes time. The possibilities of improving my time can only get better from here on if I stay committed to doing speed work, whether on the tracks or designated tempo / race pace time within a scheduled outdoor run. With a premium admission fee (which actually goes towards local charitable causes), the swags and medals were just as fancy. The B&O H5 wireless headphones excited me the most especially since I got a thing for premium audio experiences and Bang & Olufsen is definitely one of them – so much so that I rather sacrifice my other headphones for profuse sweat abuse and leave these ones as an in-home inner space serenity. The medal is just as notable. Mainly because it's engraved with the word "CHAMPION". Well not really for me, but rather it stands out as a power bank for your electronics which I have never seen before.
I think for next year, I will forego with the Championship 5K now that I have attained their qualifying time of 19:00 minutes or faster.
Looks like I'm also featured on the Bloor-Yorkville BIA newsletter recap too! Fun times – M.W.
Original blog article : https://www.mikecywan.com/blog/bo-yorkville-5k-run-recap